Tasty News: VONG SHOW Presents The FRESH RICE Web Series Celebrating Asian Heritage Month
Comedian, producer, and the Founder of Comedy Cares, Vong Show, self-described as the "official spokesperson for gay, super cute Asian", will be bringing the world a stand up comedy web series featuring emerging Asian comedians throughout the month of May. Vong is already known for creating the super successful monthly showcases RICE and Fresh Rice, featuring Canada's finest Asian comedians, which ran in comedy clubs across Toronto. So this web series is the next logical extension of those performances. FRESH RICE will feature two Asian stand ups each week in celebration of Asian Heritage Month.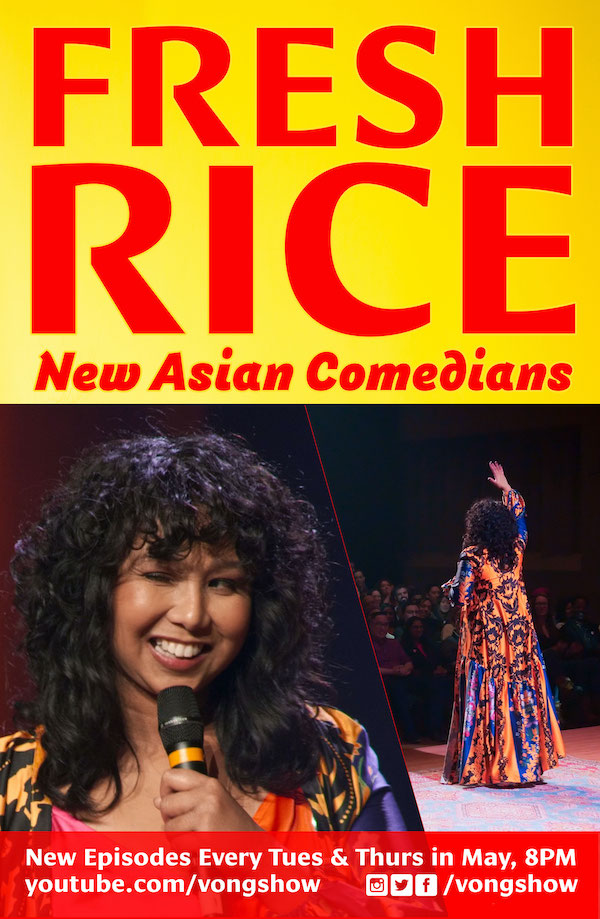 The showcase was filmed in Toronto at Glenn Gould Studio January of 2020 and features talents like Anna Luo, Anto Chan, Josh Yang, Marie Sotto, Veronica Antipolo, Tim Wong, Nicholas Fernandes, and Gina Siva. You can watch the TRAILER below and check out the upcoming Fresh Rice schedule, as well. All episodes will be released as YouTube Premieres, including live chats with the featured comedians. Yay! (By the way, "sounding like how you imagine turtles feel" sounds awesome!)
Fresh Rice Web Series
Tuesdays and Thursdays
in May at 8pm ET
youtube.com/vongshow
Tuesday, May 4 – Anna Luo
Thursday, May 6 – Anto Chan
Tuesday, May 11 – Josh Yang
Thursday, May 13 – Marie Sotto
Tuesday, May 18 – Veronica Antipolo
Thursday, May 20 – Tim Wong
Tuesday, May 25 – Nicholas Fernandes
Thursday, May 27 – Gina Siva
Mentions: This series is produced by Vong Show, David Arnold and Mike Jancik. More info at vongshow.com.