Video Licks: Check Out Mental Health Dark Comedy WITHDRAWALS for Some Educational Laughter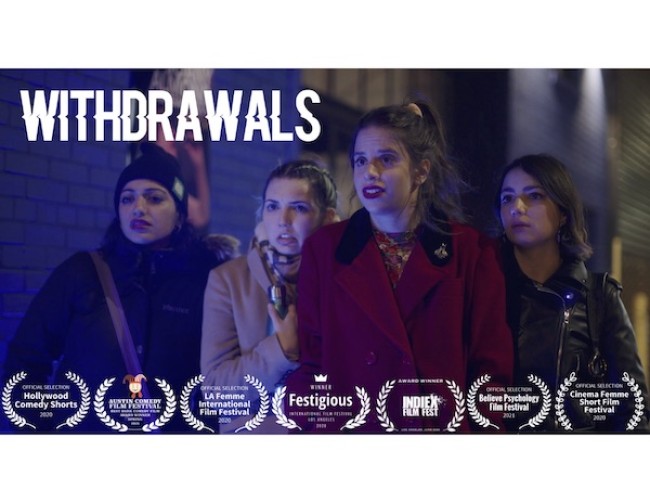 Having a strong support group can get one through the worst of times. In the new award-winning, semi-autobiographical comedy short, one group of friends takes their friendship to a whole new level when they are forced to confront the death of their childhood pop icon. After learning about the demise of their musical muse, in the worst possible way, the friends decide to ditch the anti-depressants and go cold-turkey. Of course, taking this united front comes with its side-effects. You can probably guess from the title, the WITHDRAWALS quickly start creeping in and one friend is taken to the most frightening brink of despair.
The short was created by comedians and mental health advocates Jorja Hudson (writer/director) and Kelly Stier (executive producer), features commanding performances from up and coming comedians Charlotte Gilbert (Rosa), Jenny Gorelick (Bianca), Fareeha Khan (Peggy) and Andrea Simons (Quinn), with notable cameos from Mike Poole, Colin O'Brien, Daniel Hubbard, and Sharon Spell. If you appreciate a totally fresh and humorous take on the massive problem that is mental health issues, like depression and anxiety disorder, this is the content to explore. We are confident to certify that the creators have achieved their goal of destigmatizing mental health through humor! Watch Withdrawals now!
Mentions: Learn more about the creators and short HERE. Withdrawals has been an Official Selection at Hollywood Comedy Shorts Film Festival, LA Femme International Film Festival, The Art of Brooklyn Film Festival and more!