Tasty News: 'JACKEY NEYMAN JONES: THE HANDS OF PAINT' AMA Tonight Moderated by Dumb Industries' Chris Gersbeck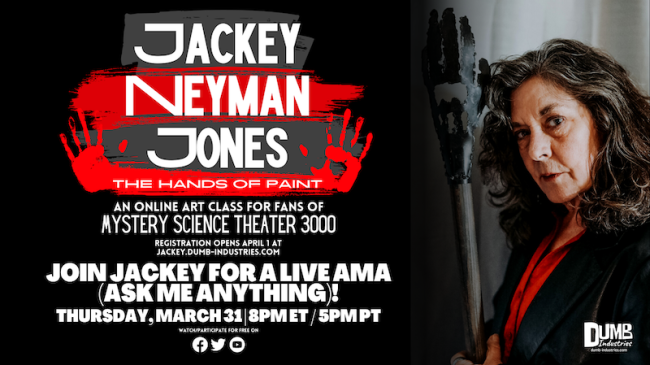 TONIGHT join MANOS: THE HANDS OF FATE star, JACKEY NEYMAN JONES, for a FREE AMA (Ask Me Anything) on the eve of open registration for her upcoming MST3K-themed online art class, aptly named  Jackey Neyman Jones: The Hands of Paint! Fans of the cult comedy series Mystery Science Theater 3000 know Jones as the actor that played "Debbie," the little girl from the 1966 film. THIS EVENING fans can ask Jackey any questions swimming around in that mass of circuits known as their brains with Dumb Industries' Chris Gersbeck moderating the event.. Attendees might also win a one-month subscription to Jones' upcoming online art class! Details on how to enter the contest will be revealed during the broadcast.
Each art class will be instructed LIVE by Jones (armed with acrylics) from her Falls City, Oregon studio, occurring exclusively online monthly on the fourth Saturday of each month at 12pm PT / 3pm ET. The course is custom-designed for fans of MST3K (known colloquially as "MSTies") who are interested in painting their own works of art inspired by their favorite comedy series. The subject of the very first class (happening Saturday, April 23rd) will be the infamous painting of "The Master and His dog" from MANOS! More info below.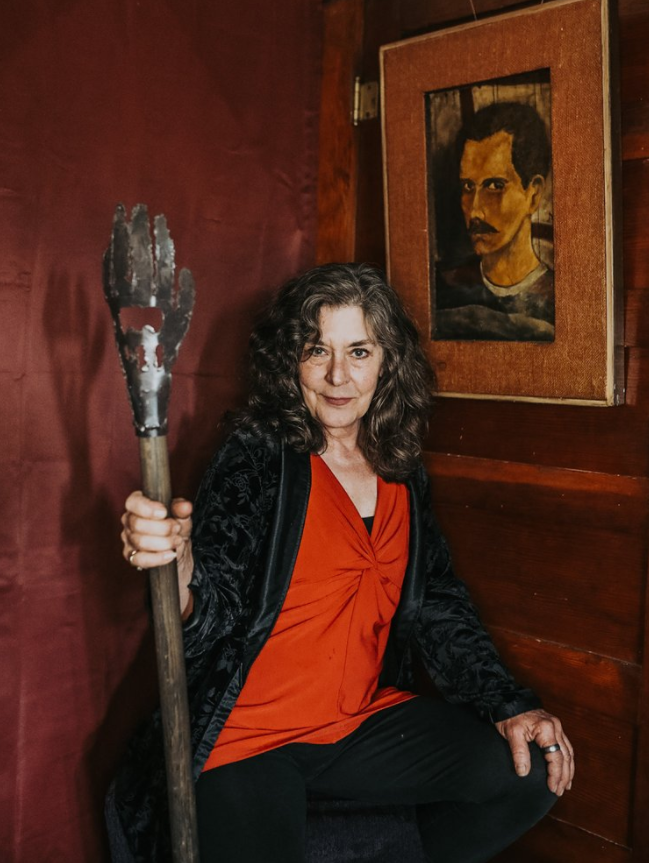 Mentions:  Jackey Neyman Jones AMA TONIGHT at 8pm ET, 5pm PT. FREE! RSVP HERE. Jackey Neyman Jones: The Hands of Paint details THERE. Registration for the class opens TOMOROW, April 1st with the first class set to happen 4.23 at 12pm PT/3pm ET. Feature image courtesy of Dumb Industries.