Icing: Inside 'Talking Marriage with RYAN BAILEY,' The Man Behind the Husband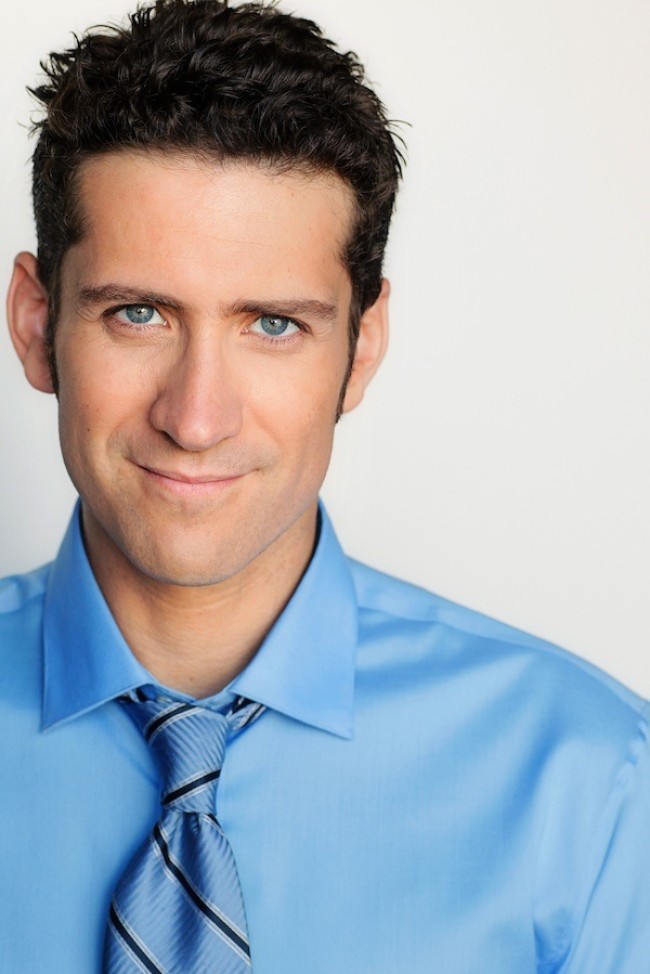 By now you are already bored of all those Fall TV season premieres, right? Heck, I'm sure most of you can barely escape from that honey-do list of yours (it's so damn long). Stop your whining! I have great NEWS! America's HOTTEST marriage advice web show is back Wednesday, September 24th. YES! SEASON TWO of Talking Marriage with Ryan Bailey is one week away! I will pause while you gather your senses. Wait for it, the second season's guests will include Jesse Soffer from NBC's Chicago PD, musician Cary Brothers, comedians Adam Ray, Melissa Villasenor, Esther Povitsky, Matt Knudsen, Brock Wilbur, Nick Mundy, Hal Rudnick, chef Brian Patton (the Sexy Vegan), the cast of 30 Minute Musicals and last but not least Kanye West. BREATHE! To add to your excitement we managed to lasso the host just long enough to squeeze out some vital info from his pulsing noggin. Contain yourselves! Jeez! The man is married, for pete's sake. Enjoy RYAN BAILEY!
COMEDY CAKE: Hello Ryan! Many Interweb greetings to you. Were you always interested in a life of comedy?
RYAN BAILEY: I've always been a funny guy, yes. But I'm not as much interested in comedy as I am helping people as a teacher and counselor. But, and I think this is why you asked the question, inherent in that is a need to laugh, to feel joy when times are tough. So anyone who's married, and certainly someone who understands marriage in the way that I do, needs to laugh a lot.
CAKE: How did the UCB, Groundlings, and Improv Olympics prepare you for your comedic pursuits?
RYAN: Um, taught me to say, "Yes, and…" to my wife? Just a little improv humor for you there. Honestly, they started as a way to get out of the house. But then helped with my ability to think on my feet when asked a pressing question by a guest or if I needed to explain to my wife why I left the fridge door open all night.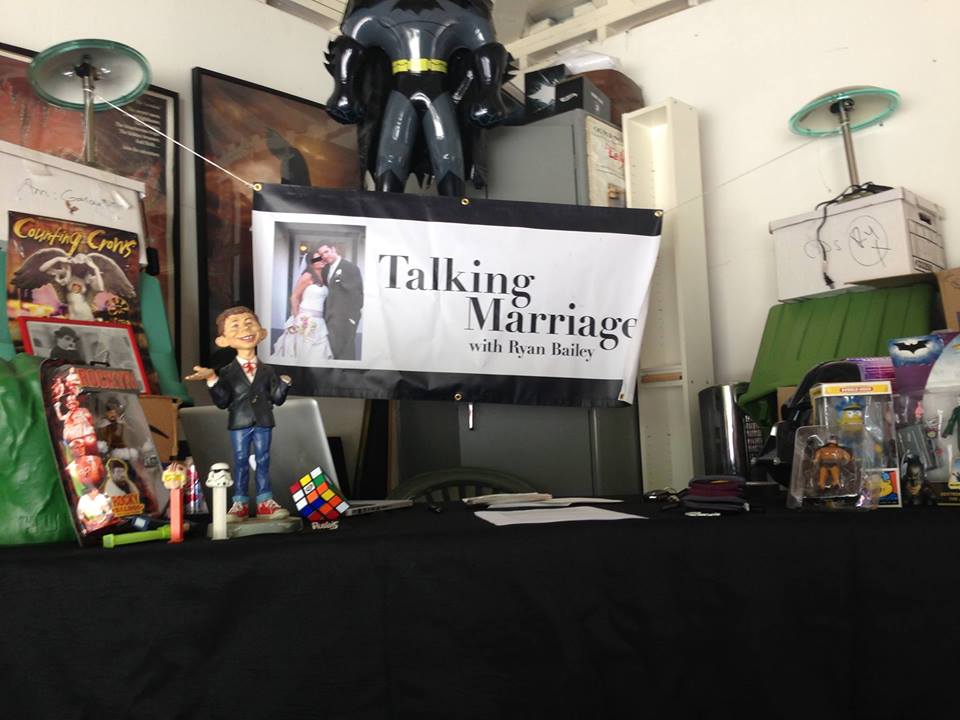 CAKE: I understand you've dabbled in the works of Shakespeare. What's your favorite play and why?
RYAN: It's a tie between Hamlet and Othello for pretty obvious reasons. I also read Angels in America when I was in college and found that interesting but it's not my favorite.
CAKE: How did the "Talking Marriage with Ryan Bailey" web show get started?
RYAN: It's fairly well documented, but I'll give a brief rundown. I've been married for over 6 years, consecutively, and I was one of the first of my friends to get married. Naturally, as others started getting ready to take the plunge, they came to me for advice. And through talking to me, people started to realize that marriage wasn't easy. My friends would say to me "Ryan, your marriage looks really hard. How do you do it?" Word started to spread that marriage was a real battle but that there was this guy, this regular seeming man named Ryan Bailey, and if you talk to him you might just be able to learn a thing or two that will help you along the way. And that's how the people started Talking Marriage with Ryan Bailey.
CAKE: What's it like being an Internet personality? Do you ever get recognized when you're taking a stroll?
RYAN: Ha! Getting recognized is the reason I hardly ever go for a stroll these days! I do get recognized a few times a week, but the thing about my show and what I do… I want to run into people. I want to help. Yes, I like the party invites and the gift bags and free drinks, but that's not why I do it. I want to talk about your marriage and my marriage and getting yelled at for leaving a pen in the pocket of some pants that got washed, I want to hash that stuff out with my fans. I'm just a regular guy with a unique talent, so getting approached is fun for me.
CAKE: What's been your favorite YouTube comment to date?
RYAN: Ugh, so many. Personally, I loved a comment from a YouTuber who said, "omg sean in this entire thing is perfect." To the average fan, that seems pretty insignificant, but to me it shows that my viewers are smart. No one likes Sean, everyone knows the thing about him is how bad he is at running sound, so it's fun to see the people watching my show engage in the same sort of sarcasm that we like to play around with from time to time.
CAKE: Which "Talking Marriage" episodes have been the most fun to film? Any crazy stories to relay?
RYAN: Every episode has been a real adventure. Two come to mind, off the bat. Episode 4 with Nicholas D'Agosto (look up his resume, he's a big deal) was pretty incredible because after I taught him about marriage, he taught us some amazing stuff about being a man, though that footage was unfortunately lost and didn't make it into the episode. The other was actually Episode 1 with Angelique Cabral, not only because it was our first episode and that was really exciting, but also because my wife unexpectedly came home WAY early and we had to speed up production a little at the end. For my peers who work in the industry, Letterman, Oprah, some of my other friends, you know how tough that can be. But we pulled it off.
CAKE: Where did you acquire that bust of Mr. T that appears on the series?
RYAN: As a child of the 80's, Mr. T was instrumental in telling me to stay in school and off the pipe so when I found a dirty bust of his head in the back of a Chicago pawn shop I just had to have it. Unfortunately, I live in LA so traveling with it as my carry-on was a little difficult and I got a lot of looks and said "I pity the fool" to a lot of strangers. Wasn't allowed to fly domestically for six months after that but, clearly, it was worth it.
CAKE: What does Mrs. Bailey have to say about all your online shenanigans?
RYAN: Well, my wife is by no stretch a soft spoken person, she makes her opinions very, very well known. But when it comes to my show, she doesn't say a whole lot. Just little smiles and some head shaking. You have to remember I teach her a lot about marriage as well. Sometimes she will look at me and say, "How did I get here?" and that's my queue to teach.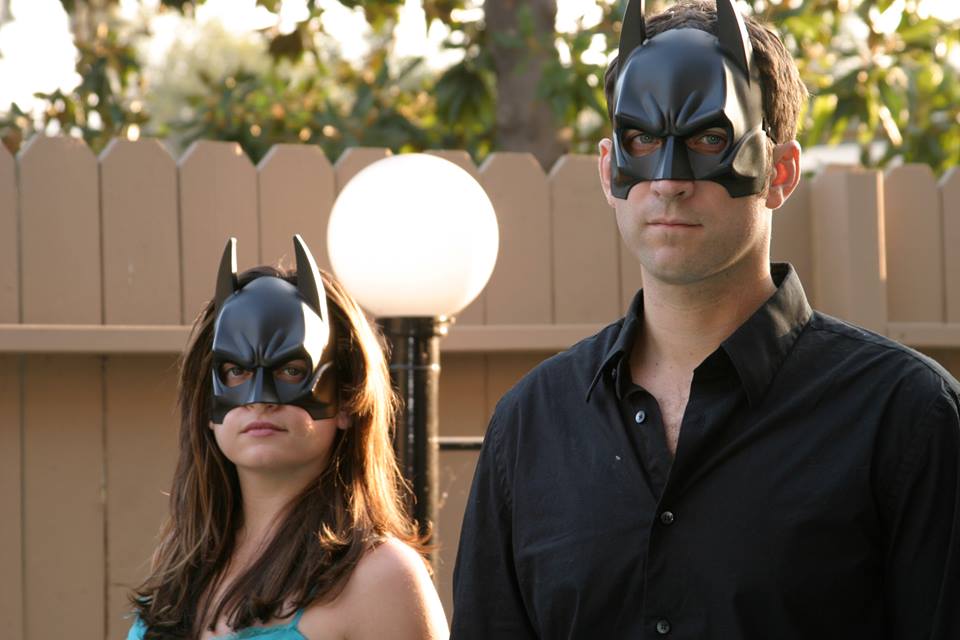 CAKE: Where do you get your inspiration for writing each episode?
RYAN: I draw a lot from text exchanges and the chore lists I get from my wife. That's pretty much where every episode starts. Unless we've visited her family recently, then that's where a lot of the ideas are generated. Also CNN.
CAKE: Is is challenging booking guests? Who is your dream guest?
RYAN: Booking guests isn't really a problem because people are very eager to learn from me. Dream guest? Boy, that's tough. The thing is, there are people I would love to meet, personal heroes like Batman and Gandhi, but I feel like my dream guest would be someone like Kanye West or Ashton Kutcher, guys that I admire for their accomplishments but who could really use my help. Teaching some mega famous celebrity about how much trouble they can get in for feeding avocado to their dog Brooklyn makes me feel good, makes their marriage better, and is the reason so many people love my show.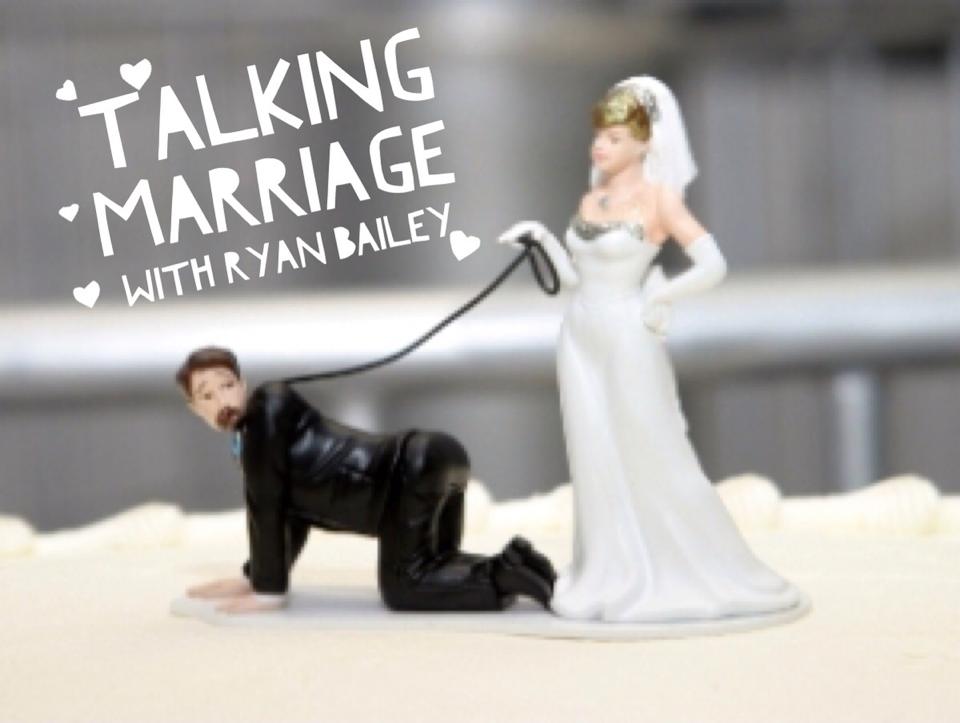 CAKE: You were roasted on the episode with Alison Haislip and Nick Mundy. Is there anyone you'd like to roast and why?
RYAN: Great question. I'd like to roast David Beckham because I don't really like soccer so I think there are some fun jokes I could make, in addition to all the marriage stuff. Also Patrick J Adams from Suits, he's been begging to be on the show for a while, how funny would it be if we finally let him do it and then just roasted him? "I hear you're from Canada. I guess you're a real LOON!" Fun stuff like that. Oh, and Adam Duritz for sure, though I'd only have nice things to say about him.
CAKE: My favorite quote from the series has been "it's easy as pie if pie was brain surgery." Where did you come up with that?
RYAN: Thanks for that, and thank you for watching and being a fan. I don't remember exactly what happened, I think Sean was trying to tell us about how he could have been a brain surgeon if he'd gone to school for it, and that's just patently false, he's not a smart guy, and so Evan and I started making fun of him thinking that brain surgery was easy as pie and it just sort of worked itself out. Evan is smart, Evan probably could have been a brain surgeon if he wanted. He just lacks confidence. I think that's why he asks me not to put his name in the credits, because he doesn't trust his talents. I'm personally very happy to have him working on the show. I should mention that Tiffany and Josh are also integral parts of Talking Marriage but I'm not really sure what either of them do. You'd have to ask Evan.
CAKE: You recently took the Ice Bucket Challenge? What was that like? Have you thawed out yet?
RYAN: Ha! The old American Sign Language Challenge. So glad my show was able to raise all that money for them. But I have thawed, yes, circulation isn't a problem for me.
CAKE: What kind of insanity can we expect for Season Two of "Talking Marriage"? Can we look forward to another episode of 'Last Husband Standing'?
RYAN: Gosh, so much good stuff. Part of what makes our show unique is that it's a lot like a real marriage, in that unexpected things come up, you don't know what's going to happen every day. So we take that sort of spontaneity and apply it to our episodes and how we shoot. Some days, lots of days actually, we'll be shooting outside the garage, our normal set, because circumstances arose that made it unwise for me to shoot there. We take guests on unexpected field trips, surprise guests entirely by showing up at their homes unannounced, we even interview a kid. Just a random kid, it was really something. I don't want to give away too much, but Season 2 has a ton of fun stuff. Really great marriage advice as well. And just a word to the viewing audience out there, THANK YOU. If it wasn't for you, there might still be people out there going through divorce. So thank you. And you're welcome. ;)
Mentions: Did you know Ryan Bailey's middle name is Kyler. Uh oh, I think I just felt a red laser on my neck. DO NOT MISS Talking Marriage with Ryan Bailey 9.24.14! Laters.