Layers: The 'Two Girls. One Pup.' Show is the "PAWfect" LA Comedy Experience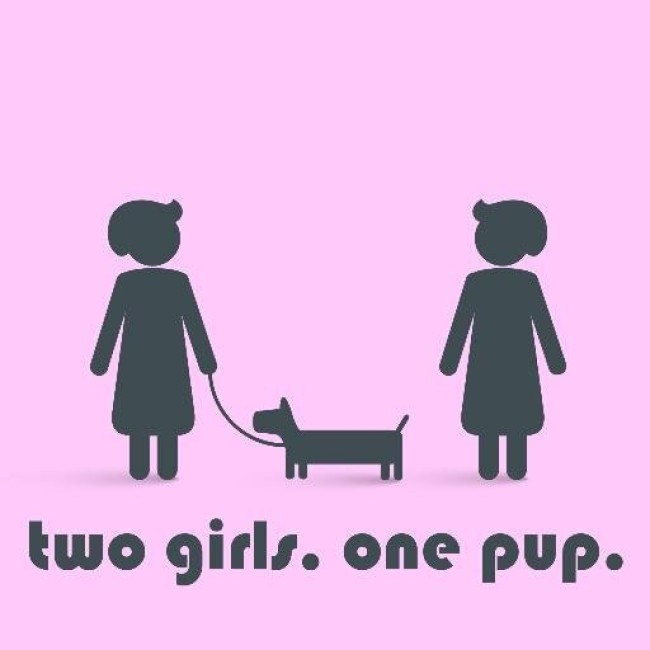 OK, it's not THAT kind of entertainment, so get your mind out of the gutter, pervert. If you have no idea what I'm referring to then stay blissfully ignorant, please. Now for our main feature! We had the pleasure of attending the Two Girls. One Pup. comedy show this month and it was an absolute delight, furry friends and all. Often when you take your yappy bud to most establishments you get the eye rolls and stabbing glares. What would it be like to let your trusty pooch relax in a judgment-free zone while enjoying some comedy yourself? Well, consider Two Girls, One Pup your new mecca. Producer Monique Madrid (All Jane No Dick Comedy Festival, Splitsider) hosts this monthly show along with a rotation of different female comedian guest-hosts (the second girl of the two girls). In addition to treats and raffles, you get to be ensconced in the LA alternative comedy scene.
The night we attended we enjoyed the comedy of Deborah DiGiovanni (Canadian Comedy Award's "Best Female Comic"), Jared Logan (Best Week Ever), Kimberly Clark (Last Comic Standing), Bryan Cook (Competitive Erotic Fan Fiction), Alex Hooper (Funny or Die), and Chris Witaske (Mr. Show's Reunion Tour) with Katie O'Brien (TV Land's "Teachers"). You can't beat a lineup like that.
Before the show we were delighted with a doggy red carpet where comedians and audience members could strut their furry companions for that epic photo moment. After some necessary Tailwagger's shopping we noshed on the complimentary PUPcorn and brews while taking in some super fun comedy. We were introduced to Monique's tireless producer, Comet the Pup, and guest host Ever Mainard to kick off the night's proceedings.
The definite highlights of the show were the ongoing doggy pun competition between comics, the chocolate "looks like poo" eating contest, Kimberly Clark recognizing an old neighbor in the audience, Alex Hooper's pug fashion ensemble, and the amazing raffle prizes and give-aways. No, I did not win but the offerings were pretty snazzy. Who wouldn't want a fancy dinner and some doggy merch?
Probably the most important part of the show is that donations benefit The Tailwagger's Foundation, a non-profit organization that provides funding to qualified 501c non-profit organization who supply life saving treament to sick and injured animals. Now for a pivotal question, would I go back? ABSOLUTELY! Whether you are sans pets or not, this unique live comedy show is a crowd-pleaser. Don't miss the December show because it will be loaded with unpredictable barks and human giggles.
Mentions: December 7th drop by Tailwaggers's Pet Store (1929 N. Bronson Ave.) for more comedy brought to you by Monique Madrid and co-host Brandie Posey (Lady to Lady podcast, Bridgetown Comedy Festival). We hear Santa PAWS will be making an appearance! Show images by Scott Sutton.