Icing: We Talk To The SUPER SERIOUS Producers About Their Indie Show And It's Upcoming Birthday Party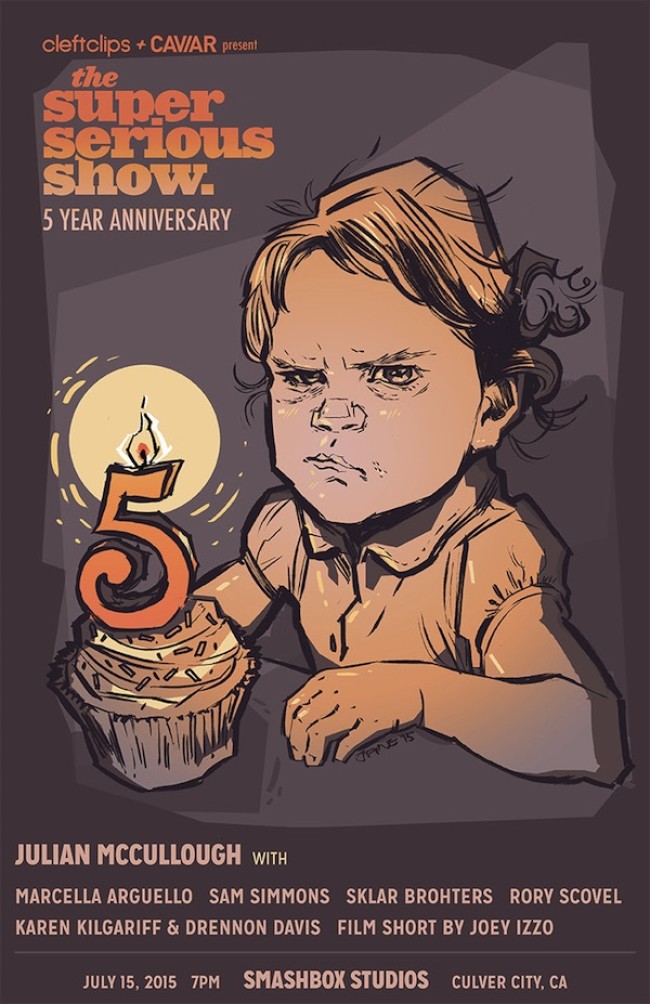 July 15th The Super Serious Show will return to it's original home, Smashbox Studios, for a FIVE year celebratory bash. The show will be headlined/hosted by Julian McCullough and includes Super Serious favorites like Marcella Arguello, Rory Scovel, Sam Simmons, Sklar Brothers, Karen Kilgariff & Drennon Davis, and more. CleftClips Productions, Mandee Johnson and Joel Mankelkorn, who've been putting the show together from the start, answered a few questions we had for them about the popular show and the path to success. Enjoy!
COMEDY CAKE: What do you think has been the most important element in creating a successful comedy show like Super Serious?
CLEFT CLIPS: Always starting on time! Also, amazingly talented comedians. They're a pretty big part of a show, too.
CAKE: How has the show evolved over the years?
CC: The show is still pretty much the same as its original version. Headliner who hosts with as much variety and stupidity as we can squeeze in under 2 hours.
CAKE: Does it ever become easier booking guests? What advice can you give producers just starting their own show?
CC: Booking is a weird conglomeration of a bunch of different approaches. There's not one magic way of connecting with performers. Basically just keep asking.
The best advice we can give to someone starting a new show is to never be too cool to be professional. Deliver a good show that makes the performers feel valued for their time. Never be afraid to ask. Ask performers to do your show. Ask friends for help. Ask friends for referrals. Ask companies if they might want to sponsor the show. The more support you have the more steady the show will be.
CAKE: What's been the most impromptu incident that's happened at a show that turned out to be hilarious?
CC: Rory Scovel climbed part of the stage set at our last Moontower Comedy Fest show. We were simultaneously scared to death and laughing uncontrollably. Luckily he survived and we didn't get into any trouble.
CAKE: What are the most memorable sets from the show?
CC: A favorite riffing moment might be T.J. Miller's full set at our first show at Fais Do-Do (our 2nd venue). He told us he wanted to work on some material so we added him late to the show and then he proceeded to completely riff a full set, using the entire stage. It was a great intro to a new venue and really sums up what we're all about.
CAKE: What's been your favorite venue to do the show at and why?
CC: We'll always have a soft spot for our original home, Smashbox Studios in Culver City. We did 18 shows there. They took us in when a lot of regular venues passed on hosting a comedy show. It was always a real little rascals clubhouse feel, building out a full stage, audio and lighting setup for one show, one night. The odd space and homespun setup always brought the best out of the performers and comedians. And it was a great slice of DIY spirit that shows up all over the amazing Los Angeles indie comedy scene.
We're returning to Smashbox Studios this July to commemorate our 5-year anniversary.
CAKE: What can we expect at your anniversary show?
CC: We're excited to return to Smashbox Studios. It'll be more of a house party atmosphere with free drinks on top of a great lineup of performers. Julian McCullough, one of the best hosts and performers around, is Headlining and Hosting Super Serious for the first time. As usual, we'll just be encouraging everyone to be as silly as possible in the weirdo photo studio space.
CAKE: With the all the great photographs that have been taken at the show do you ever think about compiling a book of those photos?
CC: It's been a rewarding side project to create a unique portrait series that coincides with the show. One day deep into the distance if we're all still kicking dirt, we've discussed the idea of a way of sharing the photos. Assuming books still exist. Guessing just picture books might be something someone would want to look at.
CAKE: With shows like "The Meltdown" and "Set List" being adapted to television, is that the direction you'd like to see your show go? If not, what are your aspirations for the show?
CC: We're happy there's new live comedy formats making their way to the masses, particularly The Meltdown and its indie comedy spirit. A TV version of Super Serious is not a specific goal of ours but we're always open for those Hollywood meetings.
Mentions: Buy tickets for The Super Serious five year anniversary show HERE. Doors open at 7:00pm with music, food truck & free drinks available. The comedy begins at 8:00pm.