Layers: An Evening of Quality…and Notions!
Calling all those who thirst for seemingly useless, but actually useful knowledge! And, they all apparently got the memo. The Virgil was packed (NO three feet of personal space here!) to watch Jaqueline Novak and friends on an October evening. This gothy, classy grotto without water was hot and sticky like a Deep South summer night. And, that was before the stage lights turned on!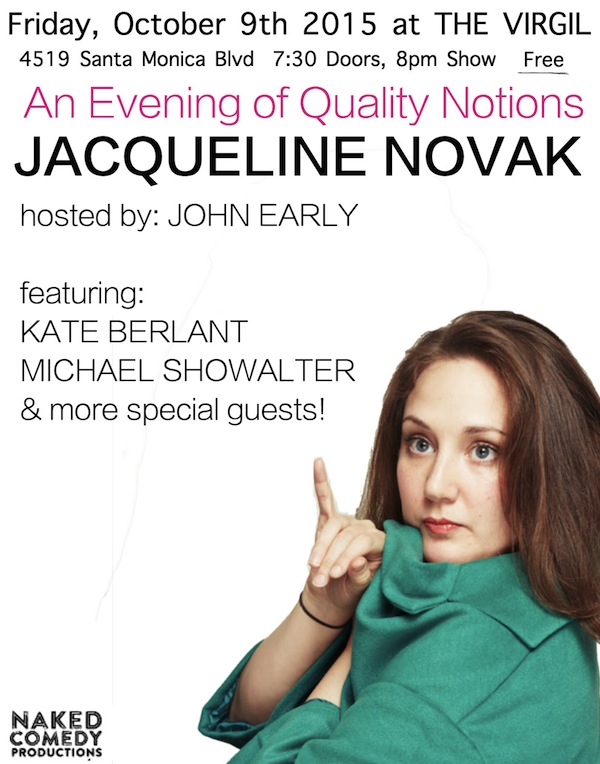 Host John Early weighed out gay vs. civil rights and social media vs. partying about the marriage equality ruling. As a gay man he said he was happy to hear of the ruling, but as Southerner he hates confrontation. Another thing he hates – Angelina Jolie's Oscar win over Toni Collette's The Sixth Sense performance (hey, wasn't that a really long time ago?) And, let's just say the man does some mean Britney Spears sing-a-longs!
Next up, you know I love me some Kate Berlant. She had a nosebleed before show, and I know this because she told us. And, that's Kate's over the top randomness in a nutshell. This victim of a wheat-less childhood home (No Wonderbread, ever?), brought the hilarity as she tried out her psychic abilities on the room. I think she might have gotten one right… no… she didn't.
Michael Showalter shared tales of stage fright and worries of being weird and/or not funny. Ever-prepared, he brought napkins for sweat. And, he won me over by rockin' a windbreaker(90's!). He confessed he wanted to be an actor for the "stars are just like us" articles in People, not for acting itself. Isn't that why everyone does it?
Before the headliner, we got a musical break, with Jack Antonoff's OAR-esque acoustic stylings, and a few jokes in between.  It was somehow just what we needed, too.
If you haven't seen Jacqueline Novak before, let her inside your head. She will be the soulmate you've never let yourself have, because you weren't ready to admit to these soul-binding sentiments. Novak proclaims her gaining 60 pounds was justice for shamers – she says having body of a woman is hell. But, eating is her "favorite of the survival activities."
She described the tragedy of abstaining from sharing pizza from strangers, stating that no one has ever ordered enough pizza. She needs at least 3 slices. Don't serve her just one pizza slice and expect it to be a meal! See what I mean, soul binding. In fact, she card counts pizza slices.
Another one of her mantras: French fries do not belong to the community. "If you can't see both ends of a curly fry it doesn't belong to you." – Words of a Fast Food Goddess.
Novak describes the human body as an embarrassment, with the woman's body being a sack of sex potatoes and the penis, one of the great American horrors. Another horror she fears is death, but she wants to have unfinished business and be a ghost for eternity. Just make sure she's buried in the fetal position.
And, thus is the life of Jacqueline Novak, a cool-assed chick worth spending and evening with. Seriously, you're horizons will expand.
Mentions: Pick up those Quality Notions at an Internet near you.