Tasty News: iO West Hosts The 4th Annual LA Scripted Comedy Festival March 9th-12th
Would life really be complete without some healthy competition? Of course NOT! We're Americans! We live for this stuff (see American Idol for reference)! Coming to iO West March 9th through the 12th is an event that will feature a bevy of shows on three stages, include celebrity headliners and judges, and offer various comedy writing workshops. It's the 4th Annual LA Scripted Comedy Festival. You will get a chance to see performers from all over the U.S. and abroad display their talents in sketch, variety, storytelling, stand up, podcasts, talk shows, pilots(live reads and filmed), video shorts, short films and, of course, solo work. The competition categories for performers will include Sketch Cage Match, Stand Up, 24-Hour Sketch, Storytelling, Video Shorts (5 minutes and under), Video Shorts (20 minutes and under), Written Pilots, Video Competition (over 5 min and under 30 min) and The 48-Hour Video Short.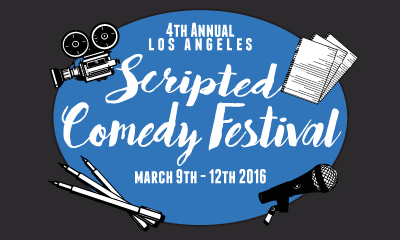 Participants will not only be able to enter multiple categories BUT they get to compete for prizes awarded in each category. Wait for it… the prizes include stage time at iO West and the Comedy Central Stage, meetings with casting directors, and networking opportunities with celebrity judges and more. There will also be a number of comedy writing workshops going on through the fest that covers topics like
television, screenplay, sketch, talk show, SNL, joke writing, solo writing, stand up, podcasting and storytelling. The workshops are offered to performers of all skill levels and will be led by current iO West instructors as well as special guests working in the industry.
In honor of iO alumni Chris Farley, the festival's official beneficiary will be The Chris Farley House. A percentage of all festival show and workshop total revenue will be donated to the house. This festival should be amazing! For more details on applying to the fest click HERE. The submission deadline is February 5th.
Mentions: Get more deets about the iO West Scripted Comedy Festival HERE.