Icing: ELIOT GLAZER Brings His "Haunting Renditions" to The Bell House 4.20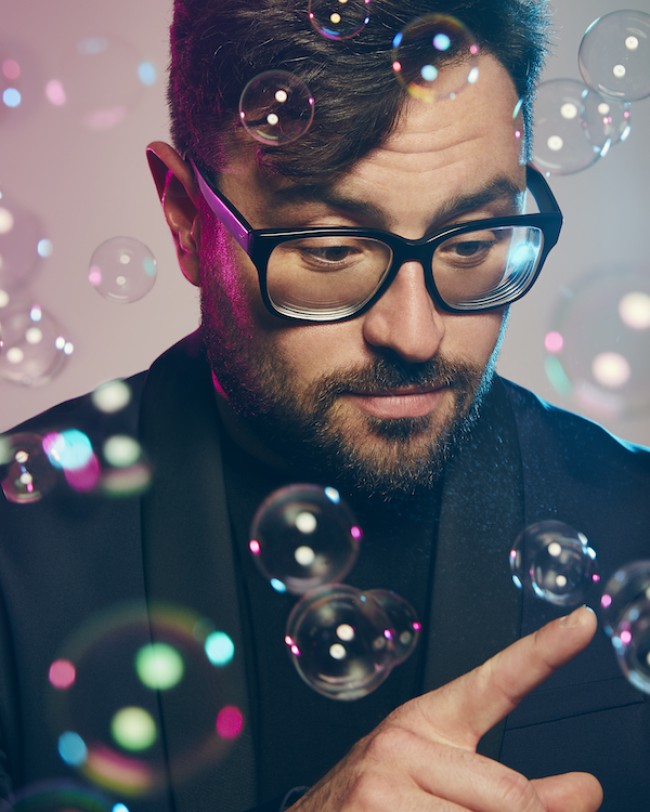 What's ELIOT GLAZER been doing since our last interview? The now LA-based writer and performer made the trek west from his native New York where he's served as Executive Story Editor on the Fox series, NEW GIRL. Heart. Before New Girl he was a writer on Darren Star's TV Land series, YOUNGER. Heart squared. You may also remember him as 'Eliot' on yet another immensely popular series, Comedy Central's BROAD CITY where he also serves as a creative consultant. So what's he doing when he's not a part of such amazing TV productions? Well, he's developed an original half-hour comedy for Comedy Central with Executive Producer Will Arnett (name drop points) AND he's been performing on his bi-coastal, monthly musical show HAUNTING RENDITIONS. Glazer will, once again, be utilizing his classical vocal training to turn pop music's most infamous songs into highbrow ballads Thursday, April 20th at The Bell House in Brooklyn. Learn more about Eliot's HAUNTING RENDITIONS LIVE and his adorable tattoo collab after you watch this sweet sizzle reel!
COMEDY CAKE: It's been a while since our last interview. What have you been up to the last 20 or so months?
ELIOT GLAZER: ​I moved to LA and wrote on the last season of New Girl. The B-story in my episode was all about how shitty EDM is, which makes sense. I'm picking up where I left off on an original pilot that I sold before New Girl.
CAKE: Do you ever think about bringing Haunting Renditions Live on a full U.S. tour?
ELIOT: ​Definitely. In the meantime, I'm trying to find the time to appear at comedy festivals around the country in 2017.
CAKE: Can we get a taste of what songs the audience might expect to hear at the next HAUNTING RENDITIONS, April 20th at The Bell House?
ELIOT: ​We don't have the set list confirmed quite ye​t, but with a library of 20+ songs by now, we always try to mix up the selections based on era and genre: Destiny's Child, The Mighty Mighty Bosstones, Dave Matthews Band, Wham!, Mandy Moore…it's a clusterfuck from my childhood. But our newest song will be a "recent classic" from the biggest sellouts of all time: the Black Eyed Peas.
CAKE: The last iteration of the show featured guests Gilbert Gottfried and Phoebe Robinson performing with you at Brooklyn's The Bell House. What was that even like?! (I can only imagine Gottfried scream singing.)
ELIOT: ​Phoebe and I did a bit where I sang excerpts from my favorite songs to see if I'm "allowed" to perform them at karaoke — stuff by Anita Baker, Blackstreet, Ginuwine, Erykah Badu, Bell Biv Deboe. You get the point. She's the face of Wokeness, so it's important to get her stamp of approval before I make a fool of myself.
Gilbert and I did a 2017-tailored 12 Days of Christmas. That was a real honor. The guy's a fucking legend. He's so sweet and timid in person. Then he hits the stage and is just masterful.
CAKE: Have you ever had any guests reluctant to sing on a show?
ELIOT: ​Honestly, no. Everyone is game because they know that, in our capable hands, we would never make anyone look bad just because they're not musically trained.​ From Pete Holmes to Gilbert Gottfried to Mamrie Hart, everyone has been pretty game.
CAKE: Who do you believe are the most vocally gifted comedians out ther​e​?
ELIOT: ​Bridget Everett, Maya Rudolph, Tracey Ullman… Billy Eichner has a great voice. Matteo Lane too. And people who don't see Sandra Bernhard's annual show at Joe's Pub might forget that she is an exquisite singer.
​
CAKE: Do you ever catch yourself humming in unusual places? If so, where?
ELIOT: ​Sometimes, when my brain is supposed to concentrate on ​something specific like a movie or play or concert, that's specifically when ideas for music come into my head. It makes NO sense.
CAKE: What genre of music would you be most frightened to make a campy rendition of?
ELIOT: ​Billy Joel.​ As a New York native, I feel like I would be beheaded if I threw any sort of shade at Strong Island's first son.
CAKE: If you were asked to be a coach on "The Voice," what would your answer be? What do you think of that type of reality show?
ELIOT: ​I'd say yes because I love the idea of a sitting in a chair that swivels all the way around. But also it would be fun to live in a world where I was asked to be a coach on "The Voice." I think that show, specifically, is great because it focuses so acutely on one's talent more than their "look." And unlike "American Idol," it never banks on snarking on its contestants, laughing at their buffoonery.​ It's kind spirited.
CAKE: You spoke about the possibility of recording a "Haunting Renditions" live album before. Is that still something we can look forward to?
ELIOT: ​Yep. We're working on really solidifying the show as a brand in the TV and musical spaces. Of course, with this weird brand of comedy, it's all about defining the music as satire vs. parody to avoid lawsuits.​
CAKE: What projects do you have lined up, aside from HRL?
ELIOT: I'm working on a half-hour comedy vehicle for myself. Will Arnett is executive producing, which is super fun.
CAKE: What would you like your next tattoo be?
ELIOT: ​I'm not someone who needs to get ink all the time, so I'm not rushing to get a tattoo just to get a one. But my sister and I are designing one to get together in tribute to our grandparents.
CAKE: Priceless.
Mentions: Buy tix to see Haunting Renditions at The Bell House HERE. Doors: 8:00 pm / Show: 8:30 pm $15. The Bell House is located at 149 7th Street, Brooklyn NY. Feature image photo credit: Matt Monath.