Icing: We Talked To The Multi-Talented ELIOT GLAZER About His 'Haunting Renditions'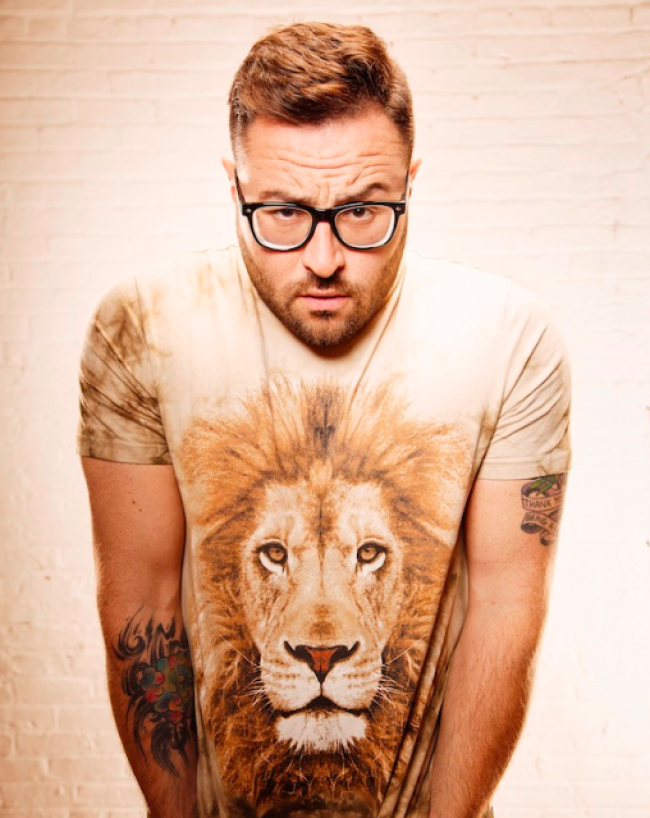 You probably recognize this fellow from Broad City where he played Ilana Wexler's brother, Eliot ( who we met at Grandma Esther's Shiva). ELIOT GLAZER doesn't only makes folks laugh for living though. He's a classically-trained singer who can belt out a tune like nobody's business. Tuesday, August 25th the comedian/actor/writer/singer will be bringing his vocal talents to The Echo in Los Angeles. Fellow comedian Kate Berlant and Ed Droste of Grizzly Bear will join Glazer for an evening of hilarious Haunting Renditions. What am I talking about, you ask? Based on Glazer's web series of the same name, Haunting Renditions Live features Glazer turning the most iconic pop tunes of the age into sophisticated works of art. And what makes the show especially funny are Glazer's humorous introductory dissections of the songs, in addition to other special treats. But enough from me, get to know more about the show and the man behind these wonderful parodies THIS minute. Enjoy!
COMEDY CAKE: When did you first come up with the idea of reworking infamous pop songs? Also, what was the inspiration behind the idea?
ELIOT GLAZER: My friend Abbi Jacobson [of Broad City] was touched when I sang a Billy Joel song at karaoke for our friend's engagement party. So she urged me to do something with it. I had wanted to explore doing musical comedy for a while, but I was always bored by the genre that I really wanted whatever I did to be different than everything I've seen.
And as someone who tends to be a "deep thinker" about literally the stupidest shit, I knew there was an untapped resource in treating disposable pop with an egregious amount of reverence — very self-serious and hyperbolic. As a trained singer, I knew I could actually provide the "service" (singing) with the comedy (the bogus music criticism), which is hard to find outside of, say, Reggie Watts or Cocoon Central Dance Team.
It was a pretty seamless transition into arranging the music because my arranger/pianist/maestro — Mike Fram — was the musical director of our college a capella group, where I was
so eager to do comedy that I infused my sense of humor into the group as much as possible. And we share such a similar love for absurd comedy that I really couldn't ask for a better collaborator. Same goes for the live show and web series' producer, Seth Keim, one of my best friends since high school (who, incidentally, works on Fallon). Both guys are instrumental to what we've created.
CAKE: How would you describe the show to the uninitiated?
ELIOT: It's a live concert that, at its simplest, features me singing lush versions of awful pop songs with a fivepiece orchestra. But there's standup and multimedia and sometimes dance and special guests, and I provide "context" before each song, which is where the comedy comes in. It's an absurdist variety show of sorts that's especially fun for music fans because I'm parodying the serious way in which people talk about music. Also, my sister dressed up as a dancing dreidel for our holiday show last year. That should give you a better idea.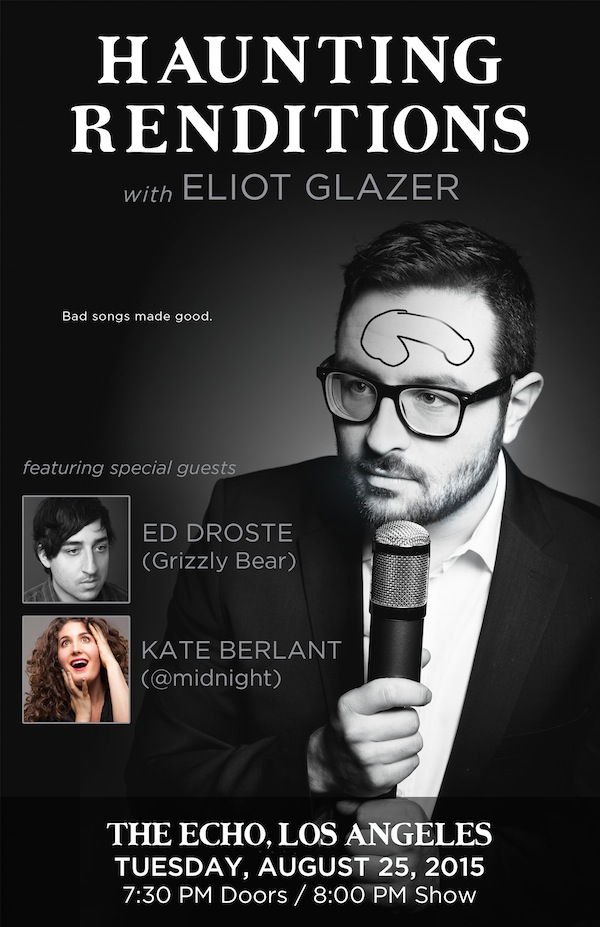 CAKE: How did you go about choosing who would be your special guests for the show at the Echo?
ELIOT: I've always loved the band Grizzly Bear, and recently became friends with Ed. Because the band veers toward an ambient sound, I totally expected Ed to be shy and quiet. But he's incredibly gregarious and outgoing, which is why he's the perfect guest for the show: he's a brilliantly talented musician who creates "high art," but is also deeply funny. He's hilarious.
And Kate Berlant and I have been trying to share a stage for more than a year now, but we're always on opposite coasts. I'm genuinely HONORED to have her on my show. Her work blows my mind. Just like Grizzly Bear's music, I think Kate's experimental sense of humor is high art.
CAKE: Which songs get the greatest audience response in your opinion and why?
ELIOT: 90's music always hits that insatiable nostalgic nerve that is usually answered by BuzzFeed quizzes. Songs that everyone just forgot about like songs by Shaggy, Smash Mouth, and Mandy Moore get the audience pumped up. And anything that screams of the early aughts like the emo anthem "Sk8r Boi" by Avril Lavigne always kills. I've had an inordinate amount of people tell me that our rendition of "California Gurls" by Katy Perry has driven them to tears. Which is both flattering and confusing for me.
That's my favorite part of the show: when people tell me they're confused because they didn't know how to react to what they're watching. Is it funny? Touching? Both? Neither? Reggie Watts calls it "disinformation," and I love providing that type of challenge for the audience: setting up a comedic rhythm that they may have never experienced before, so they don't know when they're supposed to laugh.
CAKE: Do you enjoy performing in more intimate venues compared to large arenas?
ELIOT: I actually feel a lot less nervous in front of a bigger crowd, if for no other reason than that a larger venue usually promises the lights being so bright that I can't see the faces of the audience. I prefer performing for a black abyss.
CAKE: Are there specific vocal exercises you practice to prepare for a show? Do you
ever get jitters beforehand?
ELIOT: We're usually so busy preparing for the show the music, the bits, the logistics that I always forget to do genuine vocal exercises until minutes before the show starts. But that also makes sense because I'm not a "singer singer."
And, yes, I'm always nervous beforehand. If I'm doing one or two Haunting Renditions at someone else's show, I'm never really nervous, but knowing I'm going to be onstage without a break for an hour can be nerve wracking.
CAKE: Who are some of your musical comedy heroes?
ELIOT: I really like what Reggie Watts does – he fucks with the mediums of comedy AND music. You could write a book about his work, it's so unique. The Lonely Island doesn't get enough credit for how good their music actually is, even if it's all servicing a joke. The song they did with Robyn — "Go Kindergarten" – is one of my favorites.
I also think that the unpaid staff who do spoof songs for The Howard Stern Show — Eli Braden, Psych, and Little Mikey — create some of the funniest material I've ever heard. Whether the song is Bill Cosby doing a version of "99 Problems" or Robin Quivers' boobs, the craftsmanship of their work always makes the comedy behind it land so much harder.
And although it's not meant to be "musical comedy," I think the work of Brooke Hogan belongs in a museum. She did a remix with Fabolous of an R&B song by Jeremih called "Birthday Sex," and it is truly one of the most hilarious things I've ever heard in my life.
CAKE: Who would be your dream performer to work with?
ELIOT: Erykah Badu. She's really fucking funny and has the capacity to make fun of
herself while still being a gifted and brilliant artist.
CAKE: What upcoming projects do you have up your sleeve that we should know about? Can we expect more music oriented ones?
ELIOT: I'm currently writing the second season of "Younger" on TV Land, and you can
also see me on the 3rd season "Broad City," for which I also write. We're toying with the possibility of recording a live album, and we're working on a second batch of original Haunting Renditions videos, too.
CAKE: We enjoy sweets at Comedy Cake. Instead of a "F**k, Marry, Kill" game, let's play a new culinary one called "Ice cream, chocolate or fruit." Do you prefer your cake a la mode, au chocolat or avec des fruits? Feel free to expound on your cake choice, as well.
ELIOT: I want ice cream with my cake. Well, let me rephrase that: I want my pie with ice cream. I want my cake with ice cream if it's a sponge or angel food base rather than something thick like ganache. If the cake is any heavier than a shortbread, I'll take it with fruit. Otherwise, we're doing this bitch a la mode!
Mentions: Catch Eliot Glazer at The Echo August 25th for his performance of Haunting Renditions. Feature image by Mindy Tucker.