Video Licks: Watch This 'Shock & Awe' Style Late Night TV Debut from IAN ABRAMSON on CONAN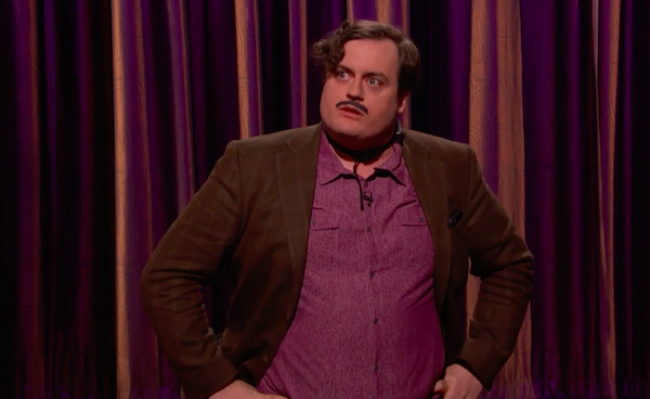 Don't be distracted by the faux pencil mustache, comedian IAN ABRAMSON (Seven Minutes in Purgatory) is the real deal. Yesterday on CONAN, he unleashed his one-liner and impression arsenal for his late night TV debut with the aid of a remote-controlled shock collar. Yes, you read that correctly. Abramson strapped on a genuine device you'd normally use to train a canine and asked an audience member to push the button when a joke didn't please the audience. Luckily, that was only required once for a Tennessee Williams Google password joke (which I personally loved). Watch as Abramson wins over the crowd with handy pnemonic devices, potential children's names, ancient roman sitcom possibilities, and handy impressions like the suicidal germaphobe and a lit matchstick. Enjoy!
Mentions: Check out more of Ian's handiwork TONIGHT at MODERN VAUDVILLE at Lyric Hyperion in LA.