Layers: JUST A SHOW, And So Much More! A Look Back at The Two-Year Anniversary of A DIY Gem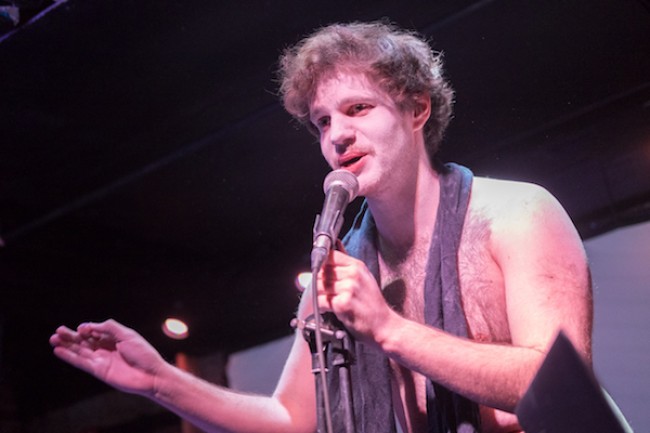 Two-year anniversaries are a hard-won accomplishment. JUST A SHOW, a variety show playing the last Sunday of each month at Sunnyvale, celebrates by reading reviews from the next day.
'Negative twelve stars,' raves The New York Times.
'Hackiest least prepared bit I've ever seen,' declares another.
'Incredible," states a third, "in the way of watching the Hindenburg go down.'
Speaking for myself, I rather enjoyed it, but what do I know? Here's what else I enjoyed:
Sandy Honig and Peter Smith are looking for a word to describe The Marvelous Miss Maisel. Marvelous? offers a helpful patron. Sadly no, that was not the word they were looking for. "Jewish," Honig quips. You're invited to discover more of their work, time rings and screech competitions included, at The Bongo Hour.
If you're going to see comedy in the city, you're going to meet Sydnee Washington. Bright, delightful, and with enough stories to entertain for hours, her traditional stand up set covered everything but a traditional life. Find more on her podcast The UnOfficial Expert.
Before I begin to talk about Brendan Scannell, please note his set ends with "I think that was pretty fantastic and everyone loves me." What preceded was a wry riff on coastal rivalry and faux celebrity, simultaneously mocking audience and performer. (You can see the self-described "baby face with a baby's body" on the upcoming Heathers.)
I don't want to describe Steven Castillo as uproarious, but it's the only word that fits. I literally laughed throughout his entire wonderful blend of Spanish, storytelling, props, and music. Do yourself a favor and follow him however you can. (You can see his work on some show called Saturday Night Live.)
Can you create comedy from something as simple as hitting the spacebar? Those Weird Guys (Jay Weingarten + Matthew Goldin) are game to try. Drawing you in on their loopy journeys, their manic energy masquerades the thought out and inherent planning of an A/V reliant set. More than any other set, their unique performance stuck in my head on the way home. You can see them at their monthly self-titled show at Trans-Pecos.
True to a variety show, Lucy Cottrell switched the energy entirely by leading the audience through extended meditational journeys. The pairing of her hallucinatory stories and silk smooth voice was much appreciated and something I've never seen before.
The hosts also jumped in, with Jessy Morner-Ritt riffing on a hilarious bit about public roasts, and Harris Mayersohn closing out by showcasing a character called Vape Freak — a conceit so good, to describe it might ruin it.
I asked them after the show why Just a Show exists. Mayersohn nods, anticipating the question. "We just want to make a space where you can do anything you want."
To the delight of their audience, they've delivered.
Mentions: Just A Show returns the last Sunday of each month at Sunnyvale. You are also invited to check out Jessy Morner-Ritt's character showcase at Film Noir Cinema the last Tuesday of each month. Feature image of host Harris Mayersohn at the Feb 25th 2-yr anniversary of Just A Show at Sunnyvale BK.