Layers: Navigating The Comedy Depths of TRUTH SERUM at Q.E.D.
Everything in this article that I am about to discuss is the complete truth. No, of course I've never lied in other articles! Save embellishment for the law; I'm only interested in the truth. There are many types of truths: water truths, circumcised truths, and my personal favorite: comedic truths. The truth hurts yes, but the truth can also be super funny. 2 + 2 = 4, HILARIOUS.
You can only imagine my excitement when I found out there was a monthly comedy show called TRUTH SERUM: a filling boob sandwich made like a game show with some stand up globbed on only one slice of bread. The show occurs every fourth Thursday of the month and is hosted by the very funny, very "zoey" ZOE YELLEN. Zoe's been doing this for a while, and even though she is not responsible for inventing truth, she still managed to have a great and accurate show.
Before we got into the fun and truths, the show started off with some stand-up by Bill Schaffer. Bill told the audience that he looks like the black Bob Ross who wants to be sent to prison so he can get health insurance. Dark, but practical. The set continued to get darker and darker until we reached the masturbating around dead bodies part of the set, at which point the sun just fell out the sky.
Don't worry, Zoe knew just the thing to pick up the crowd's spirits; index cards! Who doesn't love index cards? Probably Freud if we're being honest. Zoe handed out index cards to the audience and the three contestants made their way to the stage. The contestants were first timer Katie Hutch, last month's winner and old timer Ricky Meyer, and kitchen timer Hannah Berry.
How do you win at the game of life? That's a tough question. How do you win at Truth Serum? All you need to do is have the most points. For the first point challenge, the contestants had to answer in 30 seconds why they should win. As they were doing this, red solo cups were passed around for people to put money in. The person with the most money would get the points; not the money though. All the money raised would go towards the Flint Water Crisis. Hannah Berry convinced the audience of her abilities by confessing "I love anarchy and watching Schindler's List". Michael Phelps watched Schindler's List growing up, so the odds look good for Hannah. And even if she isn't a winner, she'll always be a swimmer.
The audience wrote some things on index cards and Danette Rodriguez took the stage. Danette Rodriguez has some incredible timing. Her delay of the punchlines is what turned her jokes from ticklers to cackles, such as "I went to Harvard… student tour". The only thing her timing lacked is the ability to increase her set time so we could hear more funnies.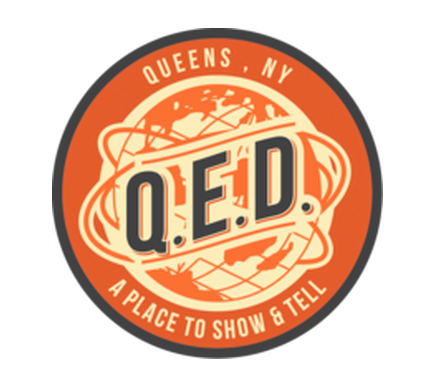 Nevertheless, more funnies would fondle our ears in the coming minutes as the contestants returned to the stage. The contestants had four categories to choose from: Finish the lyric, audience, pride, Tony awards, and my cousin's dog's name: dare. It was fun. It was like Jeopardy if Alex Trebek hosted the show in a "The Ohio State University" muscle tank. Ricky (a proud gay man) thought Stonewall was in the East Village, Hutch did a strip tease to the Arthur theme song, and Hannah posted a photo of her shitting her pants.
There was still one more act before final Jeopardy, and who better to fill that slot Daniel J Perafan. Some people don't like dicks. Some people don't like jokes. And yes, some people don't like dick jokes. Fortunately for Daniel, his confidence out showed the some which made for jokes like "She didn't come and told me many times, but said her ex-boyfriend made her come and I came right there" extra special.
Now it's time for final Jeopardy: Who is Hannah's childhood enemy? The answer: Who is Becca Hanson. Hannah closed the show by going on Facebook Live and explaining to the citizens of Hannah's Facebook why she hates Becca. Hannah really knows her constituents and won Truth Serum by a landslide.
Mentions: Thanks to QED and Zoe for hosting this great show! Truth Serum is every fourth Thursday at the QED in Astoria, Queens.