Tasty News: Celebrate Asian Pacific American Heritage Month with The Livestreamed Comedy Show "Asians: The Emotional Sluts of America" Hosted by SJ SON & WOODY FU on Caveat's YouTube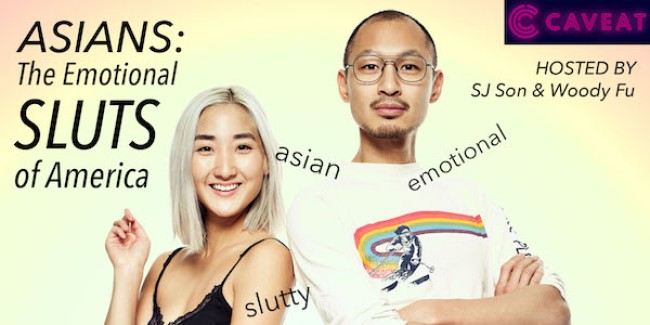 Yes, I know you've had a bunch of other things on your mind, but did you know it's Asian Pacific American Heritage Month? Well, now you do! Join in the celebration as SJ Son (Apple TV's Servant, TBS' Search Party) and Woody Fu (Ur Asian Friend, F*cking Japanese) present a livestreamed comedy show via Caveat Friday, May 29th. The online show is called Asians: The Emotional Sluts of America, and requires some expounding. The hosts of the evening will get into how Asian Americans have been emotionally and sexually repressed which has lead to many a sex, dating, and life disaster. In the show's words "this comedy show celebrates Asian American Pacific Island Heritage Month by destroying the good name of Asians everywhere." You heard it here! Helping to elucidate this topic to the masses will be show guests:
Joel Kim Booster (NBC's Sunnyside)
Atsuko Okatsuka (Let's Go Atsuko!)
Tien Tran (Comedy Central, Second City)
Fumi Abe & Mic Nguyen (Asian Not Asian podcast)
Don't miss a single minute of this sure to be memorable event!
Mentions: Show 7pm ET May 29th. Ticket link HERE. Learn more about Caveat livestreams THERE.