Icing: It's Time to Get Chummy with SUE SMITH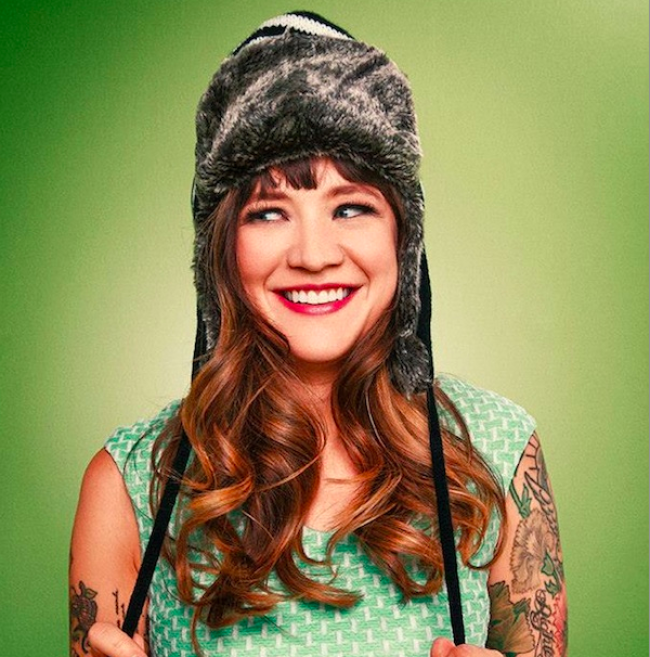 Consider SUE SMITH your new best friend with attitude. This Pennsylvania native with a knack for lovingly disgruntled humor has been making her mark on the NYC comedy scene for a while now. Bestowed with the Top 10 Funniest WOMEN in NYC honor by TimeOut NY, Sue is ready to conquer an iPad screen or comedy venue near you. She's been performing at the Upright Citizens Brigade Theater since 2007 and has appeared on VH1's Best Week Ever and I Love the 2000s. You may also recognize her as the UCB1 correspondent who brings that hard hitting comedic news from places like a Juggalos gathering. This tattooed go-getter also hosts the Amazingtown Comedy show in Manhattan, as well as her own podcast Tits and Giggles where she's interviewed gabby gals like Sasheer Zamata and Jo Firestone. How did Sue get here? What could she possibly be up to next? Find out before your eyes freeze over in a blizzard.
COMEDY CAKE: Did you always want a career in comedy?
SUE SMITH: I always loved comedy but it took several years before I felt like I could DO comedy. For me, it's a little delusional to feel like you should follow this incredibly difficult career path, but personally, I realized I was going to be unhappy if I didn't pursue my dreams.
CAKE: Tell us about your upbringing.
SUE: My background: I'm from a small town in Pennsylvania. My friends and I used to watch Saturday Night Live every weekend and eat Totino's Pizza Rolls. We were nerds, maybe. One time, my family even did a Celebrity Jeopardy sketch and I dyed my hair pink to play Cyndi Lauper. In college, I edited my school newspaper, and my favorite thing was always our April Fool's Day issue because it gave us a chance to laugh at ourselves when we were normally very serious journalists.
CAKE: How would you describe your brand of comedy to the clueless?
SUE: Outraged. But in a good, absurdist way. I have five minutes of material about people on House Hunters acting like dickheads.
CAKE: Is there a lot of pressure to maintain your top 10 Funniest Women in NYC status?
SUE: Sometimes. Being an actor/comedian is totally weird because people are judging you all the time. When you're at auditions, you can just do your thing and get outta there. Hopefully, you won't dwell on your performance or the casting director's opinion of you. It's a little different onstage. If a show's host introduces me as one of the 10 Funniest Women in NYC, then the crowd can be a little reluctant to laugh. They're like, "You're one of the funniest women in New York? Prove it." Overall, I try not to worry about what other people are thinking about me because, if I did, I would just die.
CAKE: What's the best part of being a member of the Upright Citizens Brigade family?
SUE: The community! NYC is a big and often lonely place and it's nice to feel anchored to something larger than you. I always feel like I have a home at the UCB. This sounds super cheesy, but right before shows, improvisers pat each other on the back and say, "I got your back." No matter what happens onstage, they'll never leave you out there to make a fool of yourself. In the UCB family, there's an overarching sense that you want everyone to do well in their careers because, ultimately, it means you'll succeed, too. My friend, Kelly Corson, describes it like a shootout in a Western movie. If bullets are hitting everyone else, then one is bound to hit you eventually.
CAKE: What are some of your favorite comedic acts in NYC?
SUE: Coming from an improv background, I don't relate to traditional stand-up. It just doesn't always make me laugh. I love anything that's bizarre and silly. People who've found their own crazy comedic voices are the best. Jo Firestone hosts amazing variety shows like Rainbow Dancers (groups of people improvised dancing with their faces painted.) Alise Morales hosts The Roast of Your 15 Year-Old Self, which is hilarious and painful. Joe Pera's standup always makes me laugh, as does Irene Hartman's. Nick Zelinski does hilarious characters. I recently saw a group from The Chris Gethard Show give Charles Manson a Bachelor Party at the UCB. That was amazing. We're pretty lucky in NYC–the comedic scene is so huge and diverse.
CAKE: What comedians do you most admire?
SUE: I admire anyone who realizes how tough comedy is and sticks with it anyway. It's a tough job! I'm inspired by women like Maria Bamford, Joan Rivers, and Roseanne. God bless.
CAKE: Who is your favorite comedian on Twitter?
SUE: Chelsea Peretti, obvs.
CAKE: What's it like performing on programs like "Best Week Ever" and "I Love The 2000s"? Do you hang out with your fellow participants?
SUE: You know, I don't set goals because they're too intimidating. As an actor, you have no control over the jobs you book. All you can do is show up and do your best. The rest is up to the producers, casting director, network, and your Higher Power of choice. One day I made a list of all the shows I wanted to be on and Best Week Ever was at the top. I LOVE pop culture and grew up with Best Week Ever. I put it away and forgot about it. When I found it a few months later, it felt great. I haven't been on any of those other shows yet, but I'm working on it.
There's a great crew of hardworking people at VH1 and I feel like I have a family there, too. My girl Emily Tarver got me the audition, and I'm still connected to most of the cast.
CAKE: You've been in a slew of Internet videos. What are the most memorable incidents in the making of said videos?
SUE: The Gathering of the Juggalos was unforgettable. You don't want to be around those dudes when they're on drugs. In the morning, we interviewed peaceful Juggalo families at a fishing tournament. But in the evening, I got beer spilled on me and firecrackers thrown at my feet. I still can't use a Porta Pottie without getting queasy.
CAKE: Are New York subways as whack-a-doodle as Broad City portrays them to be?
SUE: YES. Recently, I went on an empty train car that smelled like piss. When I switched cars, a bunch of other people had made the same mistake. They all gave me knowing looks and shook their heads. It was a real NYC bonding experience.
CAKE: What is your opinion of "manspreading"? Thumbs up or down?
SUE: Manspreading has been infuriating me since my gender studies professor pointed it out years ago. I AM SO GLAD PEOPLE ARE GETTING OUTRAGED. There are a lot of things that make me seethe silently with rage and manspreading is one of them. I just don't know how people can feel so confident and entitled to that much space!
CAKE: Tell us about the "Tits and Giggles" podcast? Who's been your craziest guest to date?
SUE: I love interviewing women and just having long, uninterrupted chats. I won't name names, but I just recorded a very awkward episode for the upcoming season.
CAKE: What can we expect from Sue in 2015?
SUE: Better eyelashes. I might start ironing my clothes. Also, I'm working my ass off.
CAKE: Cake or pie? No pressure.
SUE: My mom makes a killer carrot cake!
Mentions: Get the Sue Smith 411 HERE. Listen to her podcast. Tweet at her. Attend an installment of Amazington Comedy Tuesdays at Bunga's Den in Manhattan. Frolic and be merry! Feature image by Timothy Bailey Photography.