Layers: Picture This! Show – Bojacking Hilarious
This was honestly one of my favorite shows ever! If you haven't been to a PICTURE THIS! show, I highly recommend that you get to one, now. For those of you who've never been, Picture This! is a series of live shows, featuring live comedians paired with illustrators. And, this girl was lucky enough to see the cast and illustrators from Bojack Horseman – hell, yeah!
The Nerdist Theater hosted this particular show. Situated in the back of a comic book store, it's a nerd's dream too (I'm one of those cool nerds, I swear!) First of all, there's free beer- always a few points extra from me! And, the DJ was my musical soulmate – Yarbrough & Peoples, people! The place was packed, because… Bojack. So, with my beer half gone already, the lights dimmed and I prepared to see if Picture This! was going to live up to the hype.
First off, emcee Brandie Posie gets my vote just because she's from Maryland (If you don't like Old Bay seasoning, we can't be friends.). Oh, and she's really freakin' funny – her set was about deer heads, and I can relate to those scars! Not to mention the illustrations of the whole thing were on point.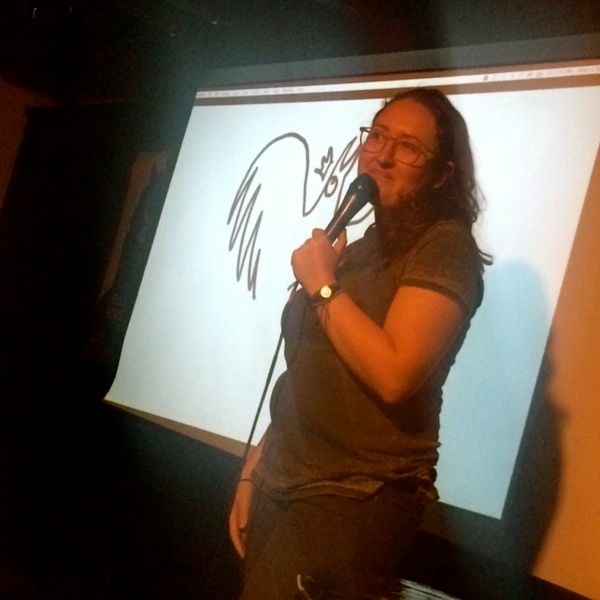 Emily Heller started things off with endless bits about Hitler's reincarnation possibilities, and the illustration possibilities were endless, too. I particularly enjoyed her online dating shaming, as she read hilarious (if it's not you) and real excerpts from her OK Cupid messages. Although, as a newly single female, I am FREAKED out.
Adam Conover was next and was paired with his girlfriend, illustrator Lisa Hanawalt. Not only were his bits on veganism… on point, his tales of being a new driver were so great, raw and embarrassing. His girlfriend got to chime in with her version of things, by pen, which was nothing short of talking to both your parents on speaker phone. They even had a small screen/microphone tiff which was just too cute! (I'm sure they worked it out by the ride home.)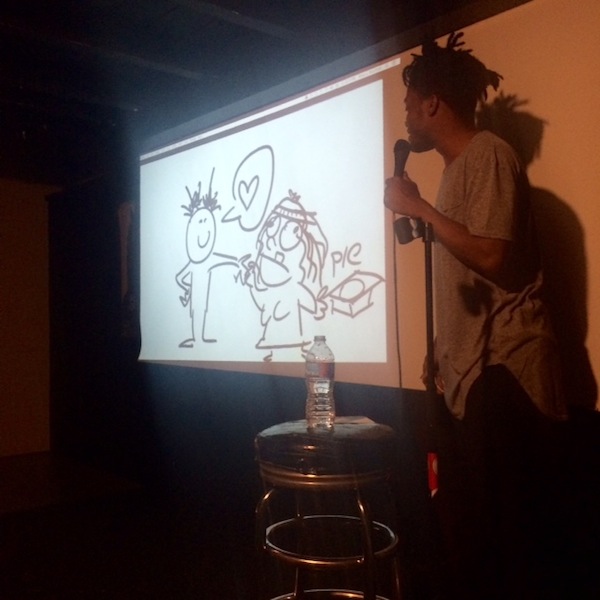 Probably most relatable for me was Jermaine Fowler's rendition of living with his ex (Did that, too – It DOES supply the jokes, at least?) and going to the movies solo. (Yep, newly single club, right here.) Not relatable AT ALL to me was his story of meeting and considering hooking up with a homeless woman, at Ralph's (Please, say it was the Rockin' Roll Ralph's!), and becoming jealous of her boyfriend in the parking lot. His set was probably the most blatantly honest, which provides the best comedy in my opinion. Also, I feel better about myself, now.
Ali Wong followed, and she's a guaranteed good time. She covered pregnancy and all it's oddities, which made a great foundation for the illustrators to build some awesome, gory stuff. She gets my heart for taking pregnancy by the balls, comparing her New Moms Support Group to The Walking Dead . And, that "Poop while you give birth thing," she calls it "Poop Power" over your husband (I hope she teaches her daughter this stuff!). Also, the illustrator had to draw poop, and that's a win!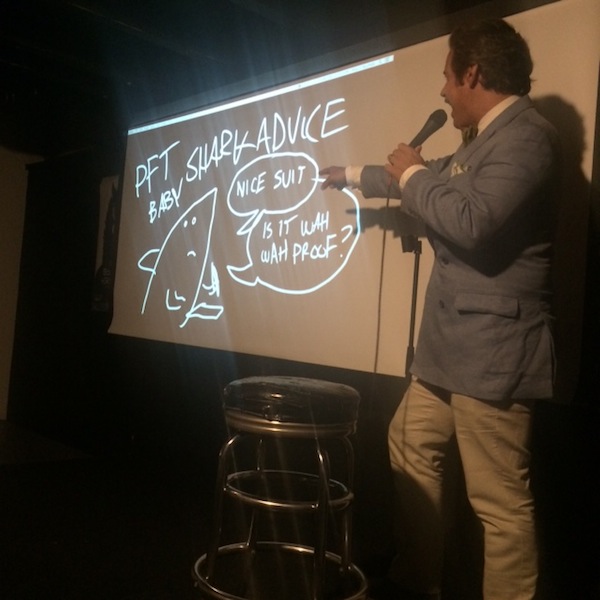 Another comic you can count on was James Adomian. As always, his impressions, his impressions, his impressions! A child of the West Side, he picked on Culver City's zigzagged (That's my nice word for it.) infrastructure, relentlessly. (Good luck drawing that.) And I agree; who DOES want a call time at "the corner of National and National and National?" Adomian now resides in Los Feliz though, which he claims is the only place a gay, Armenian man, like himself, can live in Los Angeles.
Last up to the mic was Paul F. Tompkins, and boy did the crowd go nuts- Duh! Decked out in his jacket and bow tie, this guy was smooth yet quirky, if the two can exist together. His comedy is like a scavenger hunt that leads to a place unforeseen. We somehow went from Bob Ross to ghosts and ended with shark advice (yes, the advice of sharks), and it somehow all blended well and worked. He's truly a comedic genius, who doesn't need to get vulgar to be funny – and in today's comedy world, we don't see that enough. He is legend.
All considered, this is the most genius idea for a live comedy show! The illustrations to stand up comedy make this the perfect show to take your friend who zones out during stand up shows too. (We all have that one.) The piling on of bits, on bits, on bits will keep you happy, and um… free beer, okay? In short, get yourself to (at least) one of these and thank me for this lecture, later!
Mentions: There is a sold out show (of course) at Nerdmelt tonight, but keeps tabs on their Twitter, F/B and website for upcoming dates. OK, there is a standby line for tonight's show if you just can't bear to live another minute without Picture This! but no promises.