Layers: THE BEST FRIENDS SHOW Celebrates One Year Of Low-Key Friends Forever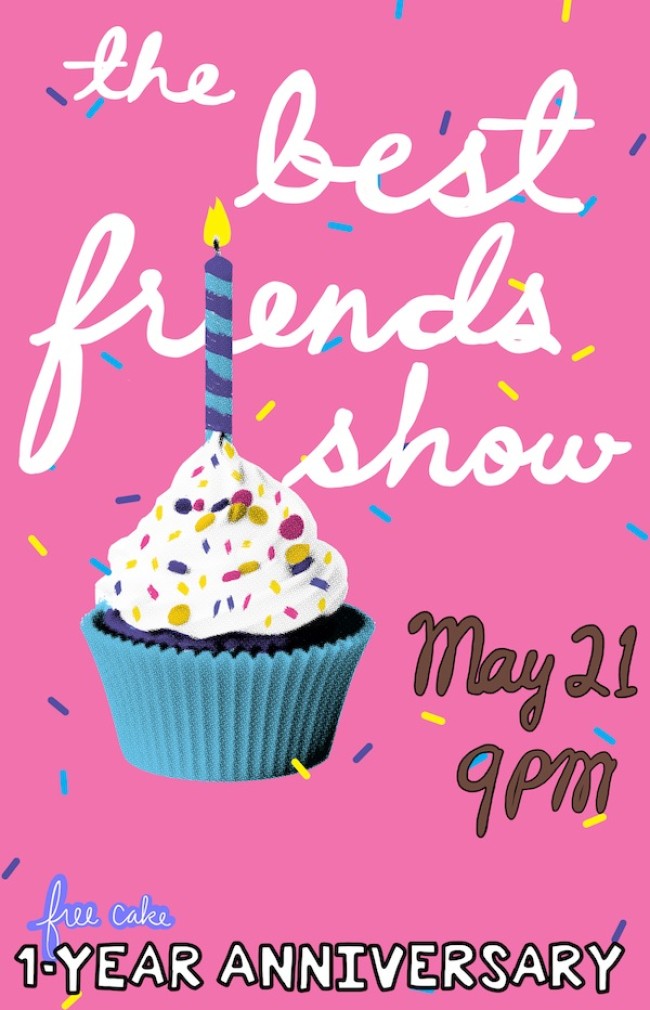 The Best Friends Show asserts, "Comedians are never as funny on stage as when they are with their friends." Celebrating their one-year anniversary on May 21st, the monthly show revolves around this bold claim getting the best stand-up comedians and performers in Los Angeles to bring a friend on stage and tell stories together. Comedians Dave Ross and Jake Weisman recollected their Home Alone-esque adventure of getting to the airport on time, classy cocktail duo Alie Ward and Georgia Hardstark talked about drenching superstar Guy Fieri in whiskey and yams, storyteller Lauren Cook and comedian Kurt Braunohler shared their best/worst day in Paris, and comedian Anna Seregina and her high school best friend Alexis Hoerres described meeting musician Tom DeLonge in high school. These are just a few of experiences shared in the back of Meltdown Comics at the NerdMelt Showroom. Typically, these are the stories you would hear in huddled circles at bars, house parties, or maybe even on a podcast, but for The Best Friends Show, these tales are the best of what the show has to offer, and as Vulture recently stated about the comedic storytelling show, "[They are] almost by default, presented in a very heartwarming way." In a sea of alternative comedy shows, what separates The Best Friends Show from the rest?
Hosted by almost-UCLA grads Kim Seltzer and Aliya Kamalova and co-produced by Katherine Leon (Radio Picture Show, The Secret Masters Podcast), The Best Friends Show is one of the many shows that premiere every year on the NerdMelt Showroom stage (Currently the only all female run show there). Program Director and comedian Caitlin Durante (Luck Of The Draw, Retro Rad) told me that mainstays like "Harmontown, The Friday Forty, Andy Kindler's Particular Show, and of course The Meltdown [with Jonah and Kumail]" have all been around for more than a year, but they all had humble beginnings too. I spoke to Kim, Aliya, and Katherine originally on the eve of their first show last May for Yay LA Magazine, Aliya saying then of the show's genesis, "It's relatable. People get excited when they can connect things that happen on stage to something that happened to them in their own lives," with Kim backing it up, "It can make you feel nostalgic for something you weren't even part of." This distillation of memory in all its messy glory (Rashōmon-style) is I think key to the success of the show. Comedian Anna Seregina (The Business, Terrified) recalls the nature of performing with someone else on the show saying, "You are presenting a shared memory with a person who knows you at both your funniest, best self, and can call bullshit when you're pandering, because they have insight into what a loser you really are." Comedy superfan Aldrin Cornejo observed something similar while attending the show saying, "A friend is willing to reveal things a single storyteller might shy away from or may have forgotten." This explicit reliability mixed with accountability genuinely brings the room together, or as performer Georgia Hardstark (Slumber Party, My Favorite Murder) puts it, "It's a great idea for a show because everyone has crazy stories with their best friends. That's the point of having one."
Since then audiences and the performers have responded to this dynamic nature of dual storytellers onstage for The Best Friends Show with NerdMelt intern Kelly Hodgson keying into the comedy fan side of things exclaiming, "The audience gets to see another side of these local comedians that some of us have seen on stage many times before" with performer Alie Ward (Slumber Party, Innovation Nation), speaking to the this often intimate and casual side of the show saying, "It's a peek into relationships that you might know on more of a surface level." Caitlin Durante commented on the shows success, "You're seeing them more up-close and personal because you're watching them interact with someone who knows them better than anyone." We want to believe we know the performers onstage, and this show primes you to feel like you do by the end. Seeing all kinds of variations on 'best friends' (from childhood buddies, to couples, to comedy partners) in the half a dozen times I've attended the show, the glue of these relationships can often stir surprising but always entertaining results that have audiences rolling with laughter in their seats. Comedy nerds Stephanie Olsen and Ryan Gabriel both sing the praises of seeing Lauren Cook (Radio Picture Show) and Kurt Braunohler (Hot Tub, The K Ohle) performing together. Stephanie says of their set, "They are an utterly charming couple" and Ryan chiming in that their performance "gives a glimpse into what makes them work." Cook herself vouches for the fans when recalling her time on the stage with her husband Kurt saying that "we argue a lot, that's just part of the way we operate. The audience got a taste of the way we remembered our story totally differently, which ended up being kinda funny, I think."
Comedian Dave Ross attests, "Booking two people that are great friends to perform together is a recipe for great sets, because those people know each other so well that they'll know exactly when to talk, and let each other talk, and set each other up for jokes." The hosts Kim and Aliya, who share their own brand of self-described 'passionate low-energy' (often involving replete with endearingly 'awkward' silences AND dance moves not too dissimilar from the Flight Of The Conchords dynamic), have been doing their best to create an environment where all these friendships can come together for a fun night of comedy. "The most common thing performers tell us is that they had dinner or something in order to figure out what they wanted to say for the show," says Aliya on the atmosphere fostered by The Best Friends Show. Reminiscing on the nights, Kim says this feeling translates to the crowd as well noticing that "There's a lot of audience members nudging or glancing at their friends when performers say/do something like them." Dave Ross sums it up best admitting, "Friendship is the best. The only thing better than watching people be friends is being friends. Man, I'm cheesy as fuck."
"We're three idiots that want to put on a fun show with our friends," mumbles co-producer Katherine whimsically about The Best Friends Show experience so far. Over the course of the year, it's proven to be a show that many people are gravitating towards and even celebrating. You're not going to want to miss their one-year anniversary show on May 21st, 9pm at the NerdMelt Showroom that promises another stunning line-up and plenty of cake, so Kim and Aliya have told me. So, The Best Friends Show asserts, "Comedians are never as funny on stage as when they are with their friends." It's a bold claim to make during this 'golden era' of stand-up comedy, but after a year of communal laughs and good times, they're definitely on to something.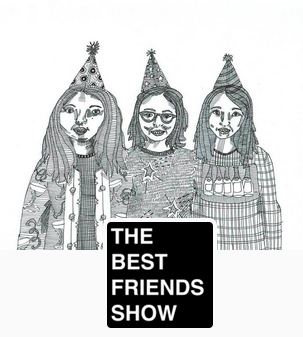 Mentions: Show 9pm. Buy Best Friends tix HERE. Advance tix $8, $10 at the door. Lineup includes Nate Corddry & John Forest, Shauna McGarry & Lizzie Prestel, Colton Dunn & Phil Augusta Jackson, and music from THE COOTIES! Follow The Best Friends Show on Tumblr. Nerdmelt Showroom is located at 7522 Sunset Blvd., LA.