LAYERS: MARIA BAMFORD'S "20%" Album Review PLUS Ticket Giveaway Announcement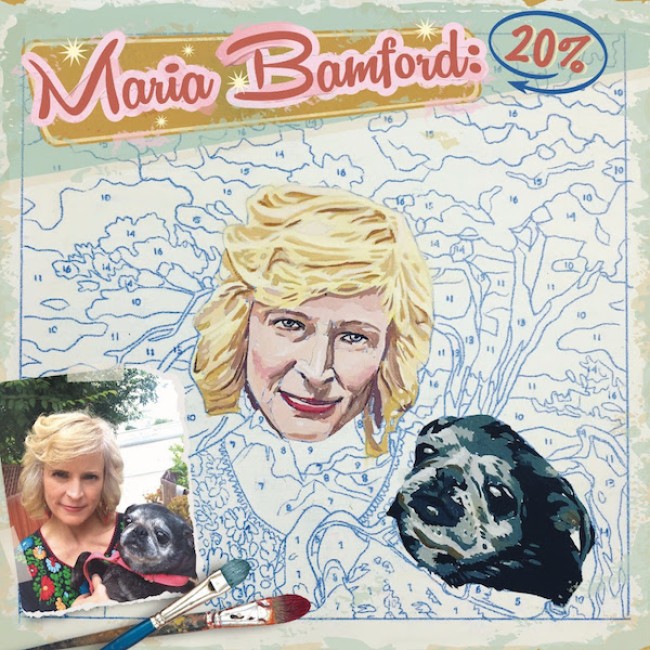 Maria Bamford was the first female comic to have two half-hour specials of Comedy Central Presents. You may also know her work as the character DeBrie Bardeaux on Arrested Development, her recurring roles as Principal Thomas on ABC's Fresh Off The Boat and a version of herself on Louis; plus, her Netflix series Lady Dynamite. The rambunctious character voices hiding up her sleeve have been part of animated series such as BoJack Horseman, Word Girl, and Adventure Time.
Maria Bamford and all of her "crazy" characters are alive and energetic in her newest album, 20%. Taped at the Upright Citizens Brigade Franklin theater in Los Angeles, Bamford gets personal about her roller coaster ride of a life. On the album Bamford talks about her married life, what it's like to live with a man, and getting older. At some points it gets a little dark while she tries to make light of her mental illness, as well as cope with the nervous breakdown she experienced in NYC. Bamford is straightforward and honest about how she felt during these rough patches in her life. Her storytelling is full of lively vibrant characters that put her audience right there with her in the story.
20%, can be found on digital platforms such as Spotify, Amazon MP3, Google Play, Apple Music and all other streaming and download services. Pick it up today!
Now for some even better FREE stuff. Thursday, November 17th Goldenvoice & Riot LA will be presenting MARIA BAMFORD at The Novo in Downtown LA. Your favorite comedy website, Comedy Cake, will be giving away one pair of tickets to see the comedian this coming Monday, November 14th on Twitter at Noon PST. All you have to do is follow us on Twitter and be ready to pounce once we announce the giveaway at the already stated time. Easy peasy! Don't miss this chance to see the comedy powers of this amazing performer!
Mentions: For those who would like to buy tickets for Bamford's 11.17 performance at The Novo click HERE. Doors 7pm. Show 8pm. For general Maria Bamford info click HERE!