Icing: JACK DISHEL Talks About The Long-Awaited New Episodes of His Viral Ridesharing Series :DRYVRS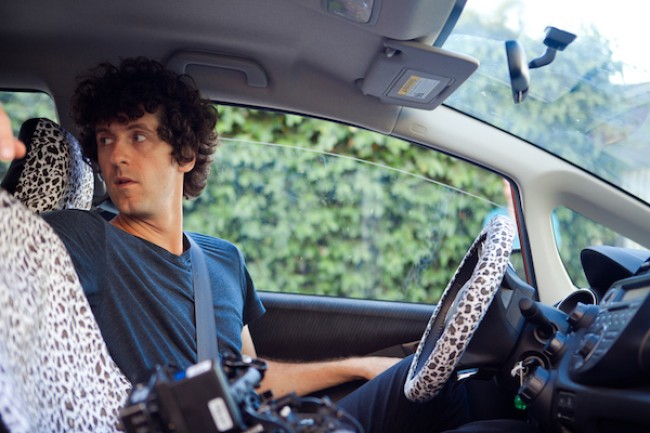 Unless you've been pent up in a yurt in Siberia without a wifi connection, you've seen the holiday classic Home Alone. The franchise propelled it's star Macaulay Culkin into the spotlight and eternally into hearts. In December of 2015, musician, actor, writer, comic and producer JACK DISHEL re-ignited our passion for the actor's talents when Culkin starred in the first episode of Dishel's comedic series :DRYVRS. The video, which made us see Culkin's Home Alone character in a totally different light, went viral and has amassed over 25 million views on YouTube. It's been a few years since the first two episodes (which featured Culkin, Dishel, Rosanna Arquette, and the late Tom Petty) captured our imaginations with ridesharing shenanigans, but Dishel is back with three new episodes, the last (for now) which premieres TOMORROW. It turns out two of the new episodes were inspired by one nerve-wracking rideshare experience in which the former guitarist for The Moldy Peaches got the idea for the series in the first place. Episodes 3-5 feature stars from TV, the big screen, the music world and more, including Darren Criss, Jeff Garlin, Jakob Dylan, Nick Valensi, Steven Weber, Kevin Pollak, Seth Green, and Rodney Mullen. We can't wait to see the Halloween episode (which drops tomorrow) and you'll be psyched to read who Dishel has in mind for future episodes. Enjoy "Scare Tactics" & "I Sing The Brother Electric," then spend some time with the ideal passenger, Jack Dishel.
:DRYVRS Episode 4: "Scare Tactics" (ft. Steven Weber, Kevin Pollak & Macaulay Culkin)
:DRYVRS Episode 3: "I Sing The Brother Electric" (ft. Darren Criss, Jeff Garlin, Jakob Dylan & Nick Valensi of The Strokes)
COMEDY CAKE: It's been a while since the world had new episodes of :DRYVRS. Are the new episodes based on the ridesharing experiencing you've had during the :DRYVRS hiatus?
JACK DISHEL: Actually two of the new episodes are based off of the ride I had that inspired the series to begin with. I was in the car with a guy who had a real serial-killer atmosphere about him. He would look at me in the rear view for extended periods without blinking, he would pause like three seconds between sentences, just totally merciless in his neglect of social cues. He was an expert in unsettling whoever he was with. And without me asking him, he started telling me that he came out to LA to reconnect with his estranged brother. Then he gives me a three second pause and says, "He's a fuckin' asshole. Hollywood type, y'know? A real bighshot…" And I just sat there and said the minimum amount of words because I was seriously considering whether he was dangerous or not. Anyway, I kind of split that experience into two episodes. The Steven Weber character in "Scare Tactics" has that creepy kind of atmosphere and Jeff Garlin's character in "I Sing The Brother Electric" hates his more successful younger brother. So I guess in the end that one guy really gave me a lot to work with. If I saw him now I'd thank him. Quietly, to myself. From a great distance.
CAKE: What's your process for casting the episodes? Have any guest stars ever asked you directly to be involved in the project?
DISHEL: The way the show came together is really organic and fun. Everyone was a friend or a friend of a friend and just wanted to have fun. We didn't do auditions or reach out to any strangers at all. The night I met Jeff Garlin, my wife (Regina Spektor) and I were at Largo watching him interview Ben Folds. After the show, the four of us hung out on the side of the stage under a single light and just laughed our asses off the entire time. We became friends immediately. Earlier in the night Jeff said I looked like Bob Dylan and I'd mentioned that I was doing a comedy episode based on that very subject. He laughed about it and I was just happy to make him laugh. Anytime I meet someone I admire my first thought is always "Oh man it would be so cool to do something together sometime!" but I knew I'd have to hang out with him more before I felt comfortable enough to ask him if he'd want to do one. But on his way out he turned around and pointed to me and said, "I wanna do your thing!" I'm a lucky guy.
CAKE: What do you find most rewarding from comedy versus music making?
DISHEL: When I write songs for Only Son being funny isn't really a goal for me. It's ok if a line here or there turns out sarcastic or has a smirk in it, but for whatever reason my sense of humor isn't that prominent in my songs. They seem to exist in separate categories. The way I hear melody and the kinds of lyrics I like to write for myself tend to be more serious or introspective.
Comedy expresses an entirely different side of my personality than music does. When you're acting, you can say the rudest things imaginable right into someone's face and the end result can be laughter. It's one of the realms of society where you can act like a maniac and not have anyone raise an eyebrow. You can be a kid. I like the absurdity of it and the lens it puts life through. If you do it right, people can wind up laughing at the saddest, scariest and stupidest aspects of humanity. It's an important release for us to have, especially now when the world is literally and figuratively on fire every day.
Lately my comedy and music have been meeting in the middle more… I think :DRYVRS is my attempt to have it all co-exist in one universe.
CAKE: What's the craziest ridesharing experience you've have to date?
DISHEL: For some reason as soon as I started doing this show my crazy rides stopped. Now all of my rides are political conversations or people telling me sad stories about their lives. Maybe something's changed in the air around me and people want to get into it. That better change soon or I'll have to start stirring something up for some good stories. I'll just get in the car and throw a hundred dollar bill at them and say, "Take me somewhere dangerous."
CAKE: Are there a lot outtakes from the :DRYVRS episodes? If so, can you tell us about some.
DISHEL: There are hilarious improvised moments in all the episodes. Jeff Garlin is a wild card and while he was driving and doing his lines, he'd randomly interrupt himself and just talk to people walking down the street. "Hey nice t-shirt! I love that album!" and then go back to the scene. Steven Weber and I were cracking each other up doing our mobsters and Euro-villain characters. Watching him improvise as a mafioso was just killing me. He went off on this tear about what he was gonna do to Joey, the guy who betrayed him, and I watched that like ten times at home. We couldn't work it all in there but there was a lot of gold.
CAKE: I understand there will be an upcoming Halloween episode. What can we look forward to there?
DISHEL: The superhero episode! It's called "Transfer of Power" and is the fifth and final :DRYVRS episode so far. I don't want to ruin anything but let's just say that there are a lot of special effects and no one is who they pretend to be – or think they are. It stars Seth Green, who is one of the coolest and most impressive people I've ever met. I learned so much from him shooting just those two days. He and Macaulay Culkin were both child actors and I always tell them that based on their life experiences their inner age is probably closer to 55 or 60. They've been through it all and understand the whole situation from all angles before anything has even happened. It's educational to be around.
CAKE: Do you plan to make more episodes, and if so, who are some of the guests you'd like to assemble for those episodes?
DISHEL: I'd love to make more episodes! The first season was made entirely on favors and people working for a fraction of their rates and it still would up costing a lot more money than we thought it would. So now we're looking for someone to partner with so we can have a real budget to make more. I have a million ideas and haven't even gotten to work with half the actors I'm friends with. If we do more I want to have Reggie Watts, TONY award winner Sarah Jones (who is a character genius – Meryl Streep is her biggest fan), Alia Shawkat, Liza Weil, Eugene Hütz from Gogol Bordello, and my lovely wife Regina Spektor, of course.
CAKE: Are you planning any other comedy ventures?
DISHEL: I'll definitely be doing some standup and hopefully some more variety shows at Largo. We just had one there to launch :DRYVRS and the new Only Son album and it was one of my favorite shows I've ever done. I'm also working on a screenplay and ideas for other shorts so anything can happen.
Mentions: Check out the :DRYVRS website HERE. Follow Jack Dishel on Twitter, Instagram, and at jackdishel.com.