Quick Dish LA: THE B*TCH SEAT 4-Year Anniversary Show 2.22 at NerdMelt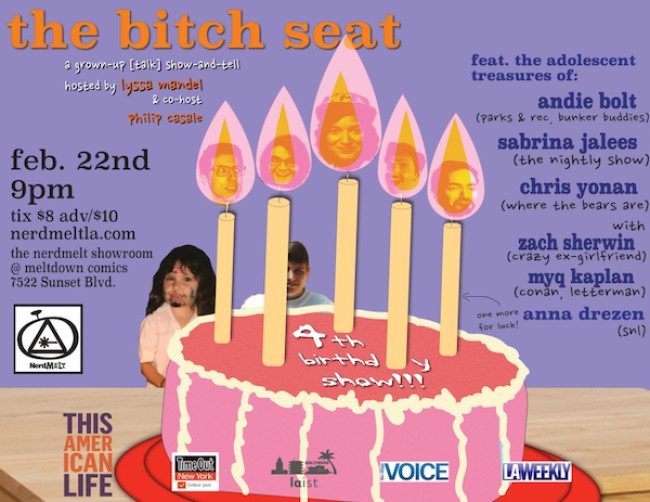 Teenage angst and self-expression bursting at the seams? We've got you covered. This Thursday, February 22nd, at Nerdmelt Showroom THE BITCH SEAT celebrates 4 years of bringing you one of the best interview-style, live talks shows around. Host Lyssa Mandel (and co-host/boyfriend Phil Casale) invite you into their world where guests present precious creations (poetry, drawings, songs, sketches, videos… Wicca boxes) from their adolescence on stage and answer questions about the teen pain we have all felt at one time. The upcoming installment of this "Judy Blume meets Dr. Phil" extravaganza will feature adolescent gems from:
ANDIE BOLT (MTV, Parks & Rec, Bunker Buddies)
SABRINA JALEES (NBC's Crowded, The Nightly Show)
CHRIS YONAN (Where the Bears Are, Hollywood Fringe)
ANNA DREZEN (SNL)
+ in-house wordsmith besties MYQ KAPLAN (Conan, Letterman) and ZACH SHERWIN (Crazy Ex-Girlfriend)
Be there for all that cathartic redemption!
Mentions: Show 9pm. Tickets are $8 in advance / $10 at the door. Nerdmelt Showroom is located at 7522 Sunset Blvd., Los Angeles CA 90046.