Layers: A Carefully Crafted Plot Summary and Analysis of QUICKIE FEST V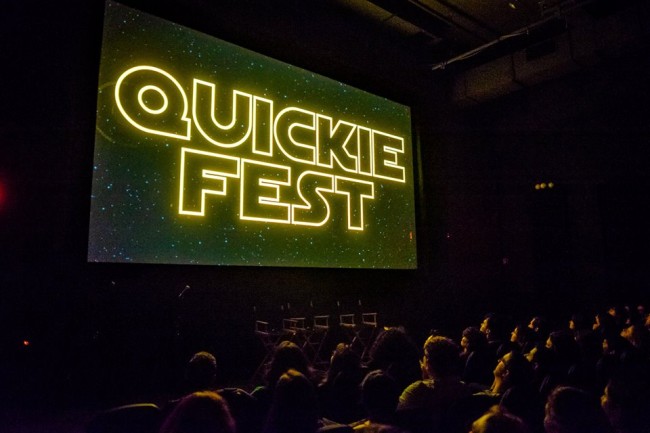 I spent hours excavating the internet for some sort of recap on Quickie Fest V. I checked everywhere: SparkNotes, Cliff Bar Notes, and coolmathgames.com but found nothing. I was shocked, especially since I swore I saw a representative from coolmathgames there. Therefore, I took it upon myself to write my own Plot Summary and Analysis of Quickie Fest V.
Right in the center of the Anthology Film Archives, Quickie Fest V tells the story of Anna Roisman and Mike Muntner: two friends who created a 60 second video competition because they were self-conscious of their attention spans. Some people don't like their hips, others (and by others I just mean Mike and Anna) don't like their attention spans. This year 69 films were chosen to be screened, which reveals a lot of information about our main characters: they are comedians. The films were split between two separate acts with a short intermission in between.
Author's Note: Now before I get into the chapter summary's I must mention one big rule of the world. After each act, members of audience as well as the Quickie Fest special jury will select their favorite film from each respective act. In addition, the special jury gets to flex their special muscle by choosing out of all the films, the best actors and wild card.
Chapter 1: I take my seat next to a man reading a brochure for the Coring Museum of Glass as Anna and Mike welcome everyone to the fifth edition of Quickie Fest. Sticking with the quickie nature, the two start off the show with a one minute roast of each other. Here you learn some more important information about our main characters: Mike is a grandmother trapped in a dog's body, and Anna is unemployed. Actually, I take that back, that is not new information. Everyone who knows Anna and everyone who doesn't know Anna knows that she is not employed.
Chapter 2: Anna and Mike introduce Jermaine Hall (BET), Ophira Eisenberg (Ask Me Another), and Lauren Ashley Smith (The Rundown with Robin Thede): the members of the special jury. They might not be Ruth Bader Ginsberg, but they sure as heaven are some very talented individuals. Lauren Ashely Smith admitted that it is very hard to make her laugh, and suddenly the air conditioning stopped working. I'm just kidding there was no A/C to begin with.
Chapter 3: The films begin! The first film to screen was one Anna made called "The Interview". Mike and Anna both made films for Quickie Fest even though theirs were not in competition; they simply did it for the love of Quickies. Sticking to her brand, Anna did a great job of accurately presenting to the audience how her interviews typically go down. Besides Anna's film however, the films shown in the first act represented the four P's of New York: Pee, Pussy, Penis, and Pigeons. New Yorkers love to shit on pigeons. I mean, New Yorkers like to shit on anything, but most of the time when New Yorker's are shit talking, it's probably because a pigeon cut them off. Which is probably why I enjoyed the aptly titled film "Pigeon" made by Leah Spigelman and Boris Khaykin. In this silent short, a group of people begin to accumulate and cry over this dead pigeon they see. Everyone is distraught, until at the end the pigeon suddenly comes back to life. Leah Spigelman appropriately responds by angrily slamming the pigeon back down to the ground. What really makes this film for me is at the end it adds "not nearly enough pigeons were harmed in the making of this film", which is just the cigarette bud on top of the New York City style cheesecake.
One film that did not follow the four P's of New York theme, but still stood out was Cory Snearowski's "I Got Stuck In A Parade". Getting stuck in a parade is something I think about surprisingly often, so to see a film about it was very reassuring. This film proved that you don't need a high production value to make a high-quality video.
Chapter 4: Not much happened in this chapter. It was intermission. People went to the bathroom. One person said to his sister "I feel like I only see you at Quickie Fest".
Chapter 5: Act II begins and starts with Mike's film "Mr. Muntner": a fun and hilarious depiction of his daily commute with a Seinfeld-esqe twist. I don't know if this was done on purpose or not but the themes in second act greatly differed from those in the first. This act was centered around death, cell phones, and every New York comedian's favorite pass time: making digs at UCB. One of my favorites was the Breakfast Boy's "Cemetery". Not to be confused with the Birthday Boys, although just as funny, the Breakfast Boys take a simple idea, mixes it with a great bait-and-switch, and in turn creates a video that has me laughing to this day. Another stand out is Alexa Kresojevich's "Angel From Heaven". Another simple idea executed hilariously with the help of Brittany Lee McDonald, who starred in this film and FIVE OTHERS. Spoiler alert, Brittany Lee McDonald won the award for Best Actress for this film. Life alert, no one should be upset about the spoiler; this whole article is one big spoiler! If you didn't want any spoilers, you shouldn't have read this in the first place! But no, don't stop now, it's about to get good. Ugh, I don't know what I want.
Chapter 6: The films have finished and the audience members choose their favorite film from each act. Anna and Mike collect the ballots and convene with the Special Jury. While they tally up the votes, audience members discuss what subway lines they're going to take home and the man sitting next to me has since moved on from his Coring Museum of Glass brochure and onto his civic duty to search the internet for the fattest and cattiest chairs around . The tallying had commenced and the special jury gathered at the front to announce the winners. Jared Hacker's "I Love NY" was the judge's selection from the first act and rightfully so. Not only did it elicit laughter from every single member of the audience, but it was more accurate than many full-length documentaries on New York that I've seen. The judges chose Lana Schwartz's "Bookbag Bottom" as the winner from the second act: a super clever ad entertaining animated short about the life of a pen lodged at the bottom of a book bag. Johnathan Ross accepted the award for Best Actor, and as mentioned above Brittany Lee McDonald accepted the award for Best Actress. What I didn't mention is that Brittany accepted the award in character; falling down as she walked to the front. For the audience selections Jared Hacker won again, and once you see it you will understand why. For the second act there was actually a tie between Boris Khaykin's "Unfinished Business" and Alley Horn's "MAGIC". I was really happy that MAGIC won. It's nice to see there's an audience that understands the fear of a never-ending tampon string.
Chapter 7: The Special Jury had one more award to give out and that was the wild card award which went to Elise Valderrama's "Cold Feet". This only confirms my belief that everyone in Hollywood has a foot fetish.
And that is everything you need to know about Quickie Fest! It's truly amazing seeing that so many different and compelling stories can be told in 60 seconds or less. Thank you, Anna, and Mike for creating such an event, and anyone who had anything to do with Quickie Fest at all. We hope you enjoyed this plot analysis and get a 3 on your AP exam.
Mentions: To see all the films we unfortunately couldn't mention, head over to the Quickie fest website for more information! Images taken by Andrew Bisdale.