Layers: Let's Talk About GIANMARCO SORESI's "One Sided Conversation"
Therapy can be very therapeutic. That's what my therapist told me. Also, my therapist never refers to me as a patient or client and only refers to me as her therapute. I don't know why. But, I do know that no session that I've had with my therapist has been quite as therapeutic as Gianmarco Soresi's One Sided Conversation.
You see, my therapist likes to write her notes (also known as jokes) on a yellow note pad. Gianmarco however writes his jokes in a trusty composition notebook. I can always count on a comedian who writes jokes in a composition notebook, so I knew I was in for a treat. Not treatment. I see my therapist bi-weekly. Next question.
Believe it or not June 22nd marked Gianmarco's first time headlining Stand Up NY, a fact that I was not entirely aware of until I witnessed the way Gianmarco shoved a taco salad down his throat. There was no reason for him to scarf down that salad so quickly. The show was sold out, his family was there, and he was performing with his friends Jay Schmidt, Rashad Bashir, and SallyAnn Hall; all who could've easily helped finish that salad.
I mean, who better to host your first Stand Up NY headliner gig than longtime friend and co-producer Jay Schmidt (MTV). Jay warmed up the crowd with an inside scoop on his ideas for Forrest Gump 2 — in this one Forrest goes from hometown hero to superhero! As he worked the crowd more, his jokes really started to hit when he discovered the audience's mutual interest in defining Pilates.
Everyone agrees that Pilates is just yoga that went to boarding school in Wales, and Jay introduces guest comedian Rashad Bashir (Betta Not Bring Ya Kids). Rashad sounded very much like Jay Pharoah. I raised the hairs on the back of my neck and thought "Is Jay Pharoah doing an impression of Rashad Bashir?" Whatever and whoever the case may be, Rashad Bashir killed his first time at Stand Up NY. Rashad could feel the "yoga mats in the air", and made the whiteness of the crowd really work for him.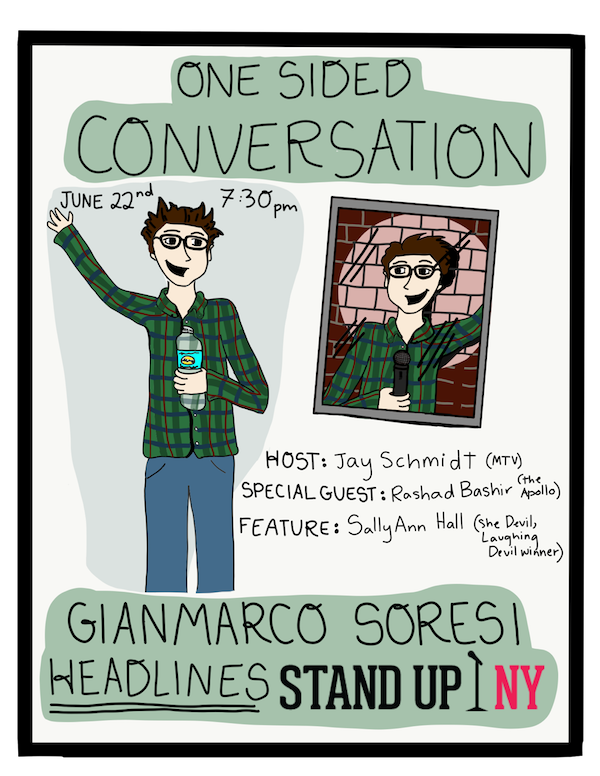 As the audience discusses whether or not they like the name Uttanasana for a girl, SallyAnn Hall (Laughing Devil Festival, Left Breast Comedy) takes the stage. This was my first time seeing SallyAnn do stand-up and it will most definitely not be the last. She carried herself so confidentally; also touching on themes of whiteness, SallyAnn describes herself as a mix between "Anglo" and "Saxon". Even as a man cat called from the back she held her ground. Never have I seen someone own their slutness like SallyAnn. This enabled her to create some amazing jokes like "Where does the tampon go? Do you put it where the feelings are?" She definitely made some men uncomfortable, but that's because she figured out what they're thinking, which is "Oh my gosh a boob hair! Should I make a wish?"
I would have been happy if the show ended then. But I'm glad it didn't because Gianmarco's performance was incredible. It came with the complimentary neurosis of every Jewish comedian, coupled with a wholesome amount of self-loathing that few can successfully achieve. When I tell people what I tell my therapist, they tell me to see another therapist. When Gianmarco shares with dozens of people what he shares with HIS therapist, everyone bursts into laughter. That sounds alarmingly out-of-context, but it's not: it's everything.
Gianmarco began his therapy session talking about his dad. Divorce is serious, but Gianmarco contested that. It was pretty hard not to laugh when he mentioned how his mom married his Dad's divorce lawyer, or how his Dad is dating a 23-year-old, so when him and Dad go on double dates, it just looks like a family dinner.
What if you don't have any family drama? Then what do you tell your therapist? Your relationship issues! Fortunately — from a comedic stand up – Gianmarco has plenty. Gianmarco is so lonely that he cries a little when he makes a PB&J sandwich. Poor not-so-little-actually-very-tall Gianmarco; all he wants is to touch some else's jelly! However, with the well-received response from the audience, he hopefully won't be jelly-less for much longer.
Towards the end of his set, Gianmarco shares with everyone that his therapist recently diagnosed him with Mild OCD, or as he describes "the scientific term for annoying". This stems from his background in musical theatre, which has plagued him with the inability to ever sing happy birthday properly. I and the rest of the crowd didn't find Gianmarco to be annoying in the slightest. He made an hour seem like 20 minutes and had the audience in roaring applause. My therapist also claps when I leave, but for very different reasons.
Thanks to Stand Up NY and all the comedians for putting on such a great show! I'll be sure to tell my therapist about it if she ever returns my calls!
Mentions: Check out the Stand Up NY website for upcoming shows. If you want to see more from these comedians, follow Gianmarco (@GianmarcoSoresi), SallyAnn (@SuperSallyAnn), Rashad (@rbashir_oms), and Jay (@TheJaySchmidt) for updates.