Layers: HUNKS' Debut Sketch Comedy Album "Mouth Beef" is An Audio Feast for The Funny Receptacles
Nothing like some Mouth Beef on a April Fools' morn to get the blood pumping! Canada sketch comedy group HUNKS have unleashed their debut comedy album to the world this fine Spring day. The album is a culmination of six semi-arduous years of work, and was recorded when "quarantine" was just a word used to refer to some Johnny Depp/Pistol and Boo dog drama. Prior to the Corona, the HUNKS (Rory Fallis, Tim Gray, Matt Nightingale, and Dana Smith) set off on a whirlwind tour of Western Canada and the US, including appearances in Edmonton, Vancouver, LA, and the SF SketchFest. Once the pande-monium hit, the HUNKS literally HUNK-ered down to focus their energies on this debut album, as well as revive their HUNKS podcast, featuring guests like Kids in the Hall's Kevin McDonald, Jon Dore (CBC, Comedy Central) Letterkenny's Mark Forward, and Sophie Buddle (2020 Juno Award Winner). But enough about the pod, let's get to the Mouth Beef!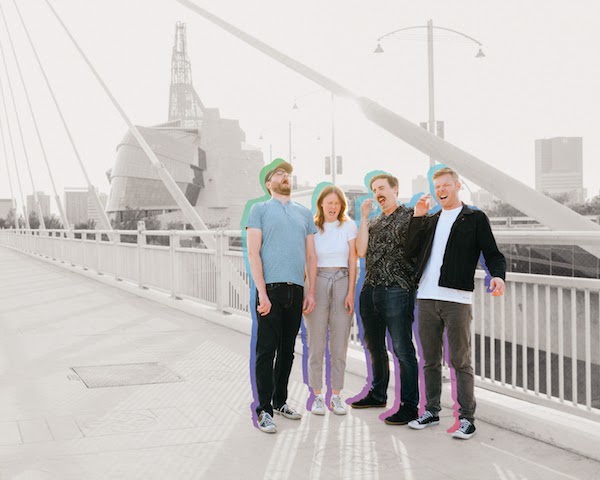 You might think it would be a challenge to be entertained by an album that features only audible sketch comedy (sans visuals), but you'd be wrong! The minds is a refined machine when it comes to filling in the cognitive gaps. We enjoyed every descriptive minute of this album, and the more the hilarious group ventured into absurd comedic territory, the more we embraced the journey. The sketches include, wait for it…. a dancing sketch, wild reality show ad breaks, xmas carol lyrics that go WAY off the rails, an ad pitch meeting with some unwarranted co-worker bullying, an intro to a new religion, an injury-heavy hiding expedition for a surprise birthday party, a mid-album check-in report, a thruple questioning relationship norms by broaching the subject of a foursome, a Michaels Arts & Crafts store employee's escapades in security, the most eXtreme Escape Room experience EVER, an award-worthy marathon of rhyming world news delivery, AND some closing, much appreciated audience participation. There's really never a dull moment on this laughter-filled ride, and you'd be remiss not spend this day of pranks slathering yourself in the delicious MouthBeef. Enjoy!
Mentions: Take the Mouth Beef ride Everwhere, including Bandcamp, Spotify, Apple Music, and Napster. Follow the HUNKS on Instagram. Have more fun with HUNKS THERE.