Tasty News: SHIPWRECKED COMEDY Launches Kickstarter for New 'Sleepy Hollow' Web Series
SHIPWRECKED COMEDY, the literary comedy troupe and production company who brought you the super popular Edgar Allan Poe's Murder Mystery Dinner Party web-series has launched a Kickstarter campaign to fund their production of Headless: A Sleepy Hollow Story. The new, episodic, scripted web series will be "a whimsical single camera comedy fusing goofy sitcom humor with the dark stylings of Washington Irving's ghostly tales to create a high-concept horror/comedy/mystery mashup." Can we get a collective "ooooooh!!!?" This modern day story follows Sleepy Hollow's Ichabod Crane, a science teacher forced to take on a roommate because that rent ain't gonna pay itself. So who is said roommate in this tale? Well, The Headless Horseman, of course! In exchange for help finding that long lost, disengaged head, the horseman agrees to help pay Ichabod's rent. Sounds like a typical LA rental agreement! Once that head is found, the horseman will finally know who he really is and find the peace he so desires. Awwww!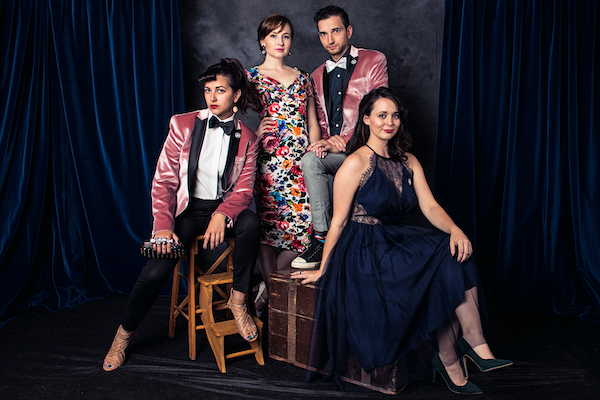 Originally the Kickstarter campaign was planned for March 2020, but like so many project it was postponed by the pandemic. Well, folks, it's finally here! The team spent the year reworking the script and they promise the end product is going to be "totally bananas." This project is Shipwrecked Comedy's biggest one since the the Streamy Award-nominated Edgar Allan Poe's Murder Mystery Dinner Party. Writers and Sundance Fellows Sean and Sinéad Persaud have returned the group to their literary and spooky roots, exploring new themes like trying to find identity in a world that can be hostile to those who don't fit in. The cast delivering this epic tale will include Sean Persaud as Ichabod, Jimmy Wong as Headless Horseman, Sinead Persaud as Matilda Bishop, Mary Kate Wiles as Katrina Van Tassel, Sarah Grace Hart as Lucretia Lazenby, Krystina Arielle as Judy Gardenier, and Jon Cozart as Diedrich Knickerbocker (all directed by Joe Stribling)! Excited, yet?
The Kickstarter goal is $150k, and the production has some lofty plans. The troupe plans to shoot the series in September of this year, in and around both Los Angeles and NYC. They hope to have access to several visually striking, historic locations that will be provided by the historic Heritage Square Museum in LA, and the Historic House Trust of NYC. The Kickstarter tier rewards range from Bigfoot, where contributors receive access to a behind the scenes production Twitter, complete with exclusive updates, to The Headless Horseman, where you can be executive producer of the whole shebang. Yes, that includes EP credit on the series and Shipwrecked's undying gratitude! Looks like there's a lot to look forward to! Watch this enticing video and get the Kickstarter info below.
Mentions: Pledge support for the project HERE. The campaign runs from JUNE 15 – JULY 18, 2021. More at shipwreckedcomedy.com. Watch some of their handiwork HERE. Socials: Instagram @ShipwreckedComedy, Facebook @shipwreckedcomedy, & Twitter @shipwrckdComedy. Check out Shipwrecked Comedy's Patreon & Tumblr, while you're at it! Feature image by Eric Carroll.