Quick Dish Online: TONIGHT Mary Jo Reads From Her New Book on Episode 12 of THE MARY JO PEHL SHOW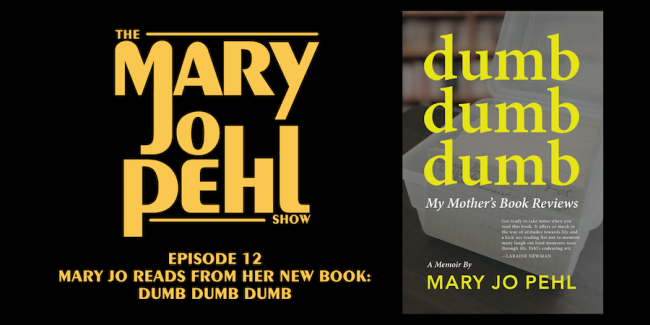 TONIGHT Mary Jo Pehl will read excerpts from her brand new book Dumb Dumb Dumb: My Mother's Book Reviews. For those unacquainted with the The Mary Jo Pehl Show, the original Mystery Science Theater 3000 writer and cast member is the star of this comedy-variety, Dumb Industries livestream to-do. The interactive hour of comedy takes place every fourth Tuesday of the month and themes for future episode are decided by the fans, with Pehl providing options at the end of each show. So what is Mary Jo's new book about? Well, it is a memoir that explores her relationship with her "quirky, wise, and opinionated mother." I'm sure there are anecdotes applicable to all our motherly relations, so this should be one heck of a good time on the good ole Twitch! Join in the fun!
Mentions: Show 8p ET/7pm CT. Subscribe to The Mary Jo Pehl Show Twitch channel and you'll be able to watch the replay at your leisure. FREE for Amazon Prime member. Download and rent past episodes HERE. Buy the book THERE. Feed the beast.