Layers: 7 MINUTES IN PURGATORY Puts Comedians In The Experiential Void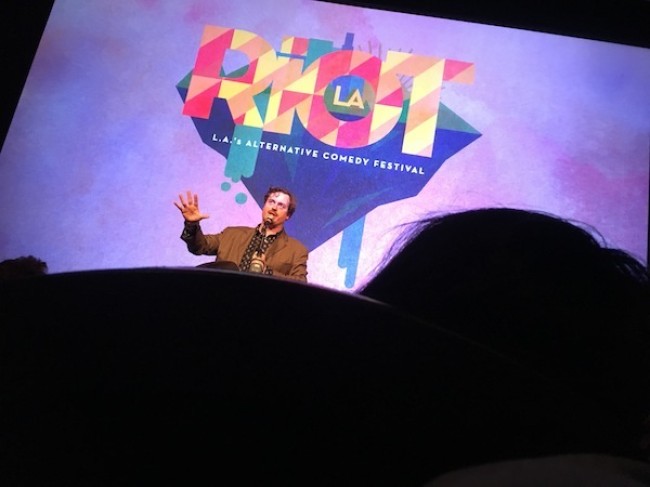 7 Minutes In Purgatory (hosted by comedian Ian Abramson) kicked off my Riot LA Festival weekend on a surreal and compelling note. The setup is this, comedians are locked in a room and must tell jokes to a live audience via a camera. At the Downtown Independent, stand-ups appeared ginormous and larger than life as they wrestled with the realities of not being able to respond to the ebb and flow of audience reactions. I'm so curious to hear the thoughts of comedians who've performed on this show think of their experience, but as first-timer to the show the reactions onstage were diverse and wild.
Comedians like Megan Gailey, Jo Firestone, and Ron Lynch seemed hesitant at first, but embraced the awkwardness and existential-pummeling nature of this exercise. Gailey's style of sweetness descending into darker and drier material was only amplified while Firestone's focus on her unique voice had the audience madly giggling in their seats. Ron Lynch double-downed on not being able to hear the audience with the "voice recorder in his pocket" bit that was as oddly heartwarming as it was funny. Comedians Mary Holland and Lauren Lapkus (of Wild Horses) put a spin on the entire show acting as PTA moms at an after school meeting calling out the audience for their silent judgement.
Thomas Middleditch gave us a breather from the experiential void for a moment sporting a baseball cap and walking on camera with bags of Doritos to give us his thoughts on every bag (parodying food review videos on YouTube) and American military jets. Hilarious comedian Guy Branum, righteous and just, chastised Middleditch for not diving into the trenches of the 7 Minutes In Purgatory premise with the other comics. He went on to contextualize the whole push and pull of the audience and performer relationship (and what performers need for their own ego) beautifully. I am a believer in Branum.
Finally T.J. Miller capped off the show by removing all the caps on a crate of water bottles nearby while he waxed blithely on about time and mortality, the audience tense knowing what was to come. Of course Miller dumped the entire crate of water bottles over his head, but it was uproarious and perfect. 7 Minutes In Purgatory feels very much in the spirit of Abramson's comedy, always circling back on itself in surprising and increasingly funny ways. There's nothing else quite like it.
Mentions: Check out Abramson on Twitter and get more 7 Minutes moments on Tumblr.