Layers: Comedians Provide Life Lessons With ADAM RUINS EVERYTHING LIVE at Riot LA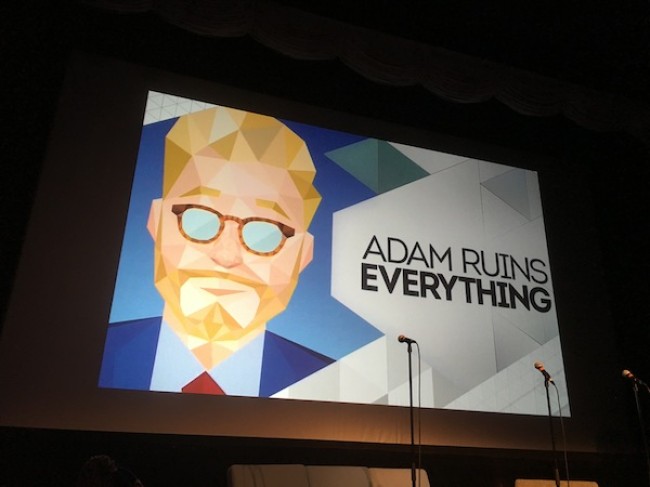 Dapper Comedian Adam Conover hosts the acclaimed TruTV series Adam Ruins Everything. Part Bill Nye, part MythBusters, Conover dismisses with glee many of the misconceptions people have about society and the world we live in including topics such as canned food donations, voting, and even death, to name a few. I assumed Conover would lay the smackdown with a literal live version of the show. What we got instead was more raw and casual, like the kind of stand-up I love.
Like a Ted Talk from hell, Conover first did a brief version of the show taking down the American presidents presenting many facts that had the audience gasping between laughs. He showed us what George Washington's teeth actually looked like (spoiler: they were taken from animals and his own slaves), the comically ugly feud between John Adams and Thomas Jefferson (Adams publicly called Jefferson a "a mean-spirited, low-lived fellow" and worse things I will not utter here), and Herbert Hoover's self-invented sport (now beloved by Crossfit gyms everywhere) Hooverball.
From there Conover introduced a trio of writers from the show (two current, one from season one), Gonzalo Cordova (sweet and self-deprecating), Alingon Mitra (smooth and sarcastic), and one of my favorite comedians Eliza Skinner. Lighting up the Downtown Independent stage, she commented of course on the oddly awesome vintage furniture taking up the space around her. She then proceeded to rip through a great, tried and true set on winning in relationships after the break-up, talking pets, and more. She even riffed a little on her work on Adam Ruins Everything before she left to go work on The Late Late Show With James Corden. I always love a chance to see her perform. She's great.
Then Conover came back to close the show with a whirlwind of a set filled with positive vegan jokes, the illusion-breaking moments in video games, and getting pulled over by the cops when he started learning to drive. By the end he was nearly breathless, a comic who's been observing keenly and tirelessly. So while I was prepared for an entire show of the eye-opening 'truth-busting' of Adam Ruins Everything, what we got was equally delightful and perhaps potential fodder for season two? One can only hope.
Mentions: Check out Conover, Cordova, Mitra, Skinner and Comedy Cake on Twitter this minute!