Layers: Our Recap of the 2013 LA Podcast Festival
We're still recovering from the second annual LA Podcast festival and with good reason. The schedule was so jam packed with quality podcasts we found ourselves in a serious cloning situation. I may have sprouted some extra chromosomes in the process. Podcasters and fans filled the beautiful Le Méridien Delfina Santa Monica hotel with plenty of excitement and laughter the whole weekend. Sponsor SquareSpace pimped out some awesome T-shirts of which I may have taken more than my fair share of. Dailymotion captured precious moments live via streaming video. There was a well stocked merch table that included a poster for Girl on Guy with Aisha Tyler sporting an Afro. Podcast organizers Dave Anthony, Graham Elwood, Chris Mancini, and Andy Wood could be spotted playing host, recording podcasts, as well as crashing others the entire weekend. Sit back and let me give you the play by play of all the podcast fun you may have missed.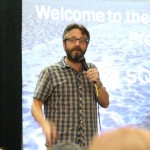 Our first stop on Day One of the fest was WTF with Marc Maron. Marc started off engaging the audience before the taping even began and was quickly put in his place by founder Dave Anthony. Many audience members traveled long distances to experience the PodFest and Marc spoke with Alice Fraser, a gal visiting from Australia. The Aussie soon took over the mic and we learned she was an aspiring comedian doing gigs Stateside. A former lawyer, Alice shared how she made the switch from land leases to comedy.
Comedian Chunky B also found his way to a mic armed with a clipboard and some serious bravado. Chunky started off with "My wife told me to take notes. I just walked in. I don't even know who you are. What's your name?" Of course, Maron responded "Maron". To which Chunky replied "Oh, you're Maron?!" Classic. Chunky went on to reveal he's a warmup comedian around town and that he was let go from a late night show gig for drinking too much beer. Moments like these make live podcasts so worthwhile. (Look out for the Chunky B podcast in the very near future)
The Dana Gould Hour had me gasping for breath from beginning to end. With guests Jonah Ray, April Richardson and Hannah Gansen no topic was taboo. Just some topics which were touched upon included "shit crusted anal beads," dinosaur pr0n and the documentary "Zoo". Hannah also entertained the audience with her song "Butter-face Mermaid."
We concluded Day One with a trip to the final taping of the music podcast Rock Solid with hosts Gary Lucy, Matt Belknap, and Pat Francis. We were shocked to learn that both Gary and Matt are leaving the podcast but Pat lightened the mood with his feelings on the matter. The awkward moments when music was played for the audience was something the guys didn't plan on and their discomfort was humorously expressed. The one moment you won't be able to appreciate audibly is when Pat started rocking out with an audience member. You don't see that every day!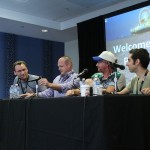 The first full day of podcasts (aka Day Two) started out with one of the most informative podcasts of the fest, Probably Science. Brandon Fibbs, associate producer of The Science Channel's "The New Race for Space" starring Morgan Freeman blew our minds with promises of space travel  in the possibly not so distant future. Flight of the Conchords actor, former morse code signaller, and comedian  Rhys Darby added some comic relief to the discussion with his passion for cryptozoology. Hosts Matt Kirshen and Andy Wood couldn't help poking fun at the existence of creatures like Big Foot and Nessy but Rhys was quick to jokingly defend his romantic fascination with the beasts of lore. Check out Rhys' paranormal cryptozoological podcast called The Cryptid Factor when you get a chance.
Jimmy Pardo, Oh Jimmy Pardo, you make us laugh til our eyes bleed. Right off the bat Jimmy was doing crowd work and riffing to a packed room. Easily distracted, Jimmy couldn't help but address the steady stream of Never Not Funny fans entering the room who he would occasionally interrogate and seat. However, he was not ready for the visually disabled individual that walked in. The crowd went mental with laughter anticipating Jimmy's next move. After Jimmy introduced himself "I'm Jimmy Pardo from TV" he completely lost his comedic composure. The NNF host turned beet red with laughter after the noticeable faux-pas and was practically in tears.
After populating the room to the best of his abilities Pardo brought in co-hosts Matt Belknap and Pat Francis for some heated discussion about air conditioning. At one point Pardo remotely changed the temperature of his home's new A/C system and the NNF team pondered upon Jimmy's wife's reaction to the stunt. Mad Men's Rich Sommer joined the crew and shared a story about teaching his daughter the value of a properly cooled home.
Doug Love Movies, probably the most talked about podcast of the 2012 LA PodFest, welcomed a far more subdued panel this year. However, the RC helicopter did make a comeback during the nametag selection. Sadly, a full-sized blow up doll did not make the cut.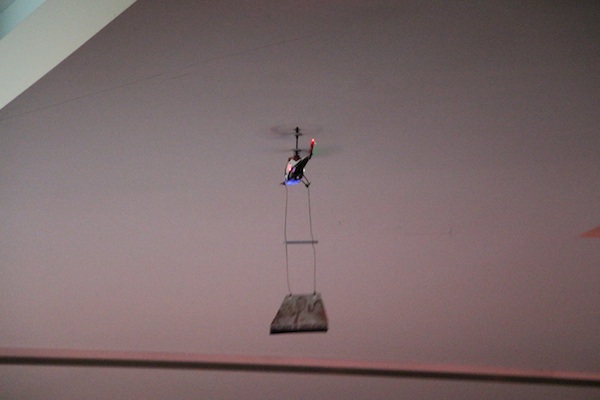 Guests David Huntsberger, DC Pierson, Nick Thune and Jimmy Pardo managed to play some DLM games like "Build a Title" and "The Leonard Maltin Game". They even had time to take a snack break and abscond some Cheez-Its from  audience members much to the delight of Pardo and Thune.
The final day of the festival was filled with a generous share of culinary delights, gamer dialogue readings, and politics. On day three we dined with podcasters Doug Benson and Karen Anderson. The audience was treated to samplings of Bloody Marys, breakfast quiche, fried bagels aka fragels, and fancy bread pudding. Jealous yet? Chefs Dave Salazar, Andy Windak, and Becky Reames plugged their various exploits and bestowed gifts upon the hosts.
Doug and Karen proudly showed off their new "BACON" and "WEED" socks c/o of Andy Windak. Dave Anthony & Jackie Kashian managed to crash the feast and enjoy some of the treats.
And somehow Doug managed to completely destroy his jacket by slowly ripping it to shreds (which some audience members took home with them). Madness I say!
Not so closet gamers Matthew Burnside, Jordan Morris, Blair Butler, Jonah Ray joined hosts Kumail Nanjiani and Emily Gordon at the Indoor Kids podcast. Kumail and Emily were quick to point out the extremely high chairs and short table plus the fact that Emily was wearing a short skirt. Kumail then used this information to make a Sharon Stone bit that he used whenever there was a lull in conversation, "Emily, cross your legs." The panel talked about GTAV in depth; the best game characters, game strip clubs, and life outside the game were all covered. The highlight of the panel for me had to be the video game dialogue read out by all the guests. Shakespeare could never be THIS good.
The thing I love most about the Dork Forest podcast is that dorkdoms manage to eek their way out when you least expect it. Who knew salad could be so interesting and hilarious?! Jackie Kashian's guests included Maria Bamford, Murray Valeriano, Karen Kilgariff and mid-podcast substitute Dave Anthony. Karen Kilgariff showed off her guitar and singing abilities by performing a song for the crowd. Maria, Murray and Dave solidified how funny they can be without a setlist.
Kevin Perreira's Pointless took a look at how difficult it can be to make an idea blossom . We learned what it takes to be a successful entrepreneur from Ilya Pozin (Ciplex, Open Me). Kevin revealed the hardships of bringing the nerd culture carnival leetUp together. Co-host of The Joe Rogan Experience podcast Brian Redban was clearly wrecked from partying but managed to entertain the crowd with his Oculus Rift and hotrod 5000 stories. The panel also managed to fit in discussions about Obamacare and the future of gaming (and beer/dryer piñatas).
And last but certainly not least, we plopped our lifeless bodies down at Aisha Tyler's Girl on Guy podcast. Luckily, the tete-a-tete between Aisha (Archer, Who's Line Is It Anyway) and guest Nick Kroll breathed new life into our withered and snackless corpses. Per usual, Aisha dived into Nick's comedic background and unveiled some lesser known truths about The League's star. Kroll talked about the road to TV success and revealed a slightly embarrassing and amusing story of how he was preyed upon by a con-artist.
We'd like to thank all the people that made the second annual LA PodFest so successful. We sure do hope we can experience our favorite podcasts year after year. Now I bestow some pearls of wisdom upon you:
Be sure to experience a podcast live just once in your life. You will never realize how enriching it can be until you try it.
You heard it here! Ciao.
Mentions: To experience the podcasts we missed head on over to the LA Podfest website. All images provided by Scott Sutton.