Icing: We Talk to Absurdist Comedy Troupe ASPERGER'S ARE US About Their Upcoming CALIFORNIA Tour
Not many people can say they've had a Mark Duplass produced documentary made about them. Even fewer can say they are the first comedy troupe composed of performers on the autism spectrum. ASPERGER'S ARE US can totally brag about both. Lucky for you Californians, the troupe is touring the state this fall and will be performing at LA's Lyric Hyperion Monday, October 2nd. The Boston sketch comedy troupe is made up of Noah Britton, Ethan Finlan, Jack Hanke, and New Michael Ingemi. The members found one another 12 years ago at the most unlikeliest of places, a summer camp. The rest is living history. Their primary goal is to make you laugh, if you learn to appreciate the skills that those with autism can possess then that's just icing on the cake. Learn more about this highly absurdist group in this laugh out loud interview. Enjoy!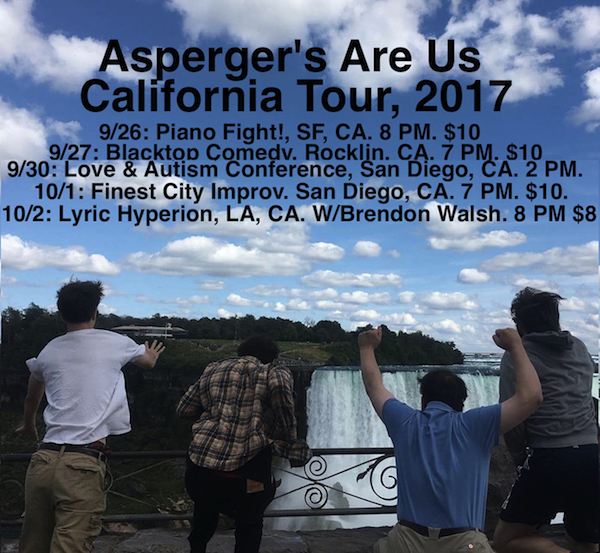 COMEDY CAKE: How did the troupe come together? Was it a challenge finding like-minded sketch members?
ASPERGER'S ARE US: We originally met twelve years ago at a summer camp. We had no intention of starting a troupe. Intentional collaborations almost never work. Noah realized the other guys were too funny and thus we started Asperger's Are Us to share our comedy with the many other Aspies out there who like absurdism and dark wordplay.
CAKE: Your troupe emphasizes that they do not wish to poke fun at Aspergers or try to prove that autistic people can be funny. What's the message you hope your audiences will take away after experiencing one of your performances?
AAU: The main thing we want people to understand is that humor does not require or benefit from relatability. Also that Ed Sheeran is a cold-blooded pirate and that people should stop supporting brigands like him who ambush innocent sailors and steal their valuables.
CAKE: What questions do you get most from audience members (intoxicated or otherwise) after a performances? Which have been your favorite?
AAU: We liked when a woman in Wales asked us if she could marry all of us, then immediately rescinded the offer upon the conclusion of the show. In her defense, she did give Noah a haircut during the intermission.
CAKE: You are currently on tour around this great nation of ours (and Canada). What have been some of the most memorable audience interactions/responses so far?
AAU: A basketball player turned anti-bullying activist agreed to do a cameo for our Detroit show so we staged a colonoscopy for him and didn't let him speak or introduce him to the audience. We suspect a lot of them had no clue why he was there.
CAKE: Where do you draw most of your inspiration from when creating new sketches?
AAU: After we finish tracing inspirational figures like Martin Luther King, we write our sketches on totally unrelated topics.
CAKE: What performers do you look up to in the comedy community?
AAU: Naturally we look up to the true comedic giants, such as K-Strass, Monty Python, Bibendum the Michelin Man, Kids in the Hall, Jamie Loftus, Emo Philips, Steven Wright, Joe Pera, Andy Kaufman's corpse, and Doug Clark and the Hot Nuts.
CAKE: You have a show coming up at Lyric Hyperion in September? Can we get the scoop on what comedy absurdity we can expect for that performance?
AAU: http://kenyawebcam.com/cam.pl?cam=lamucam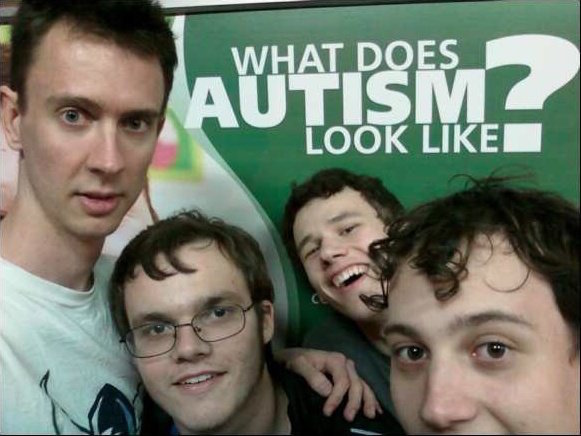 CAKE: What comedy shows, tv or live performance, are you digging right now?
AAU: Ethan hears rumors that Impractical Jokers is literally funny. Jack thinks he would enjoy longform film adaptations of classical Russian novels. Noah enjoys Rick and Morty, and New Michael isn't really into comedy.
CAKE: Can you tell us a little about your 10-Second podcasts? (Sometimes I wish ALL podcasts were this long because it would make my job so much simpler. HA!)
AAU: It would take us way too long to explain what these podcasts are about. Personally, I know my attention span isn't even long enough to
CAKE: If you could destroy any type of cake on stage Gallagher style, what kind would it be?
AAU: Noah wants to smash a piñata-flavoured cake, Ethan wants to smash a stool-flavored cake because that's just disgusting and shouldn't exist, Jack wants to smash a Gallagher-flavoured cake, and New Michael is lazy and thinks it'd be easier to smash a fat-free cake.
Mentions: Click HERE for their upcoming performances. Buy their hilarious merch HERE! More info at geocities.ws/aspergersareus/.