Icing: JANELLE JAMES Crushes It in Her New Debut Album BLACK AND MILD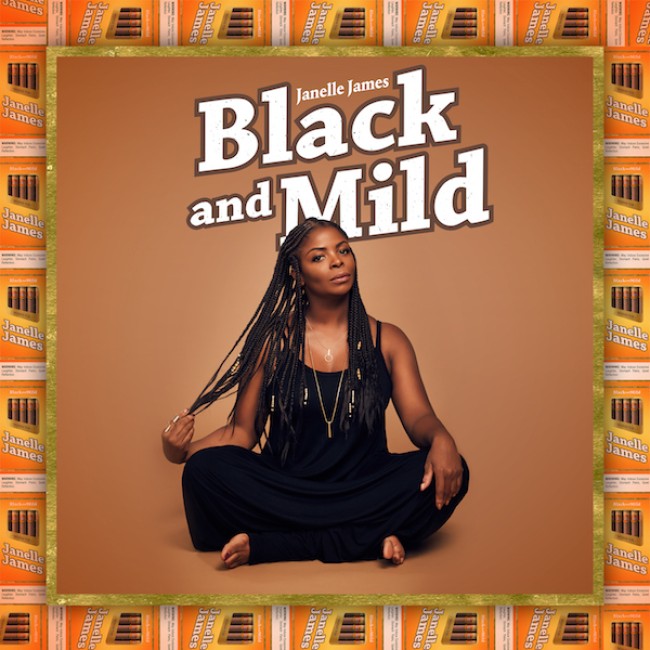 Hey kids, we made it to FRIDAY! To add to the end of the week celebrations, you can listen to JANELLE JAMES' debut album, Black and Mild, now out on Audible Comedy and anywhere comedy is sold and streamed. The album was recorded at Acme Comedy Co. in Minneapolis and features Janelle speaking the bold truth about everything from dating to pop culture. As an added treat, the album art was done by the legendary Frank William Miller Jr.. Ms. James is a New York-based comedian who you know from NBC Seeso's Night Train with Wyatt Cenac, @midnight on Comedy Central and Uproarious on Fuse. She was named one of "The 50 Most Funny People" in Brooklyn 2016 and was included in Just For Laughs Montreal's New Face category in '16. To boot, Janelle can be seen touring with Chris Rock as part of his Total Blackout Tour 2017. You'll find yourself relating to Janelle's hysterical stories and, if you are not too careful, you might belt out a snort in public listening at your local coffee shop. Truth! There will be a NYC release show October 9th at The Knitting Factory Brooklyn where Janelle and her comedy friends will celebrate the album's debut with YOU. See her in person, listen to the album, and read what she has to say about Black and Mild NOW!
COMEDY CAKE: How would you describe your humor to the uninitiated?
JANELLE JAMES: Hilarious, relatable, semi-dark, hilarious.
CAKE: How long did it take you to hone your jokes for this debut album?
JANELLE: This is my first album so it's really a culmination of the 8 years I've been doing standup so far. I was offered an album 3 years ago, but I knew I wasn't ready.
CAKE: I love the bit about being horrified by embarrassing love gestures men sometimes unleash on women. Was your male beau ok with you joking about that sweet, sweet serenade?
JANELLE: Thank you! I don't run my jokes past anyone for permission so you have to know that if you deal with me, I might talk about you. BUT!, I never intentionally try to embarrass people. Even if the starting point is about something someone else did, all my jokes are ultimately about me and how I feel about it. I said he could sing! I just didn't like it! lol
CAKE: What would you like listeners to take away from "Black & Mild"?
JANELLE: That black comedians (and people) aren't a monolith, we all have different styles. That I can play to any crowd and everyone will enjoy it just as much as anyone else would, and finally, that I ain't come to play, I came to crush! I want to be BIG and this is just the first step. Standup is life for me and I don't plan on stopping any time soon, join me.
CAKE: Can you tell us a little more about your upcoming album release show at The Knitting Factory in Brooklyn?
JANELLE: I've assembled some of my favorite comics to perform (Roy Wood Jr., Nore Davis, Cristela Alonzo, Liza Treyger, Michelle Buteau) and I'll host and we'll all laugh and drink and be merry which I think is something we all desperately need in these strange, strange times. I'll also be selling the physical CD's of my album for the 4 people who still buy those. It's gonna be fun!
Mentions: Pick up the album on iTunes and anywhere else fine comedy is sold/streamed including SiriusXM, Pandora, Spotify… Get tickets for Janelle James NYC album release show HERE. The Knitting Factory – BK is located at 361 Metropolitan Avenue, Brooklyn, NY 11211.