Quick Dish: Loud Village Presents 50 First Jokes Jan 5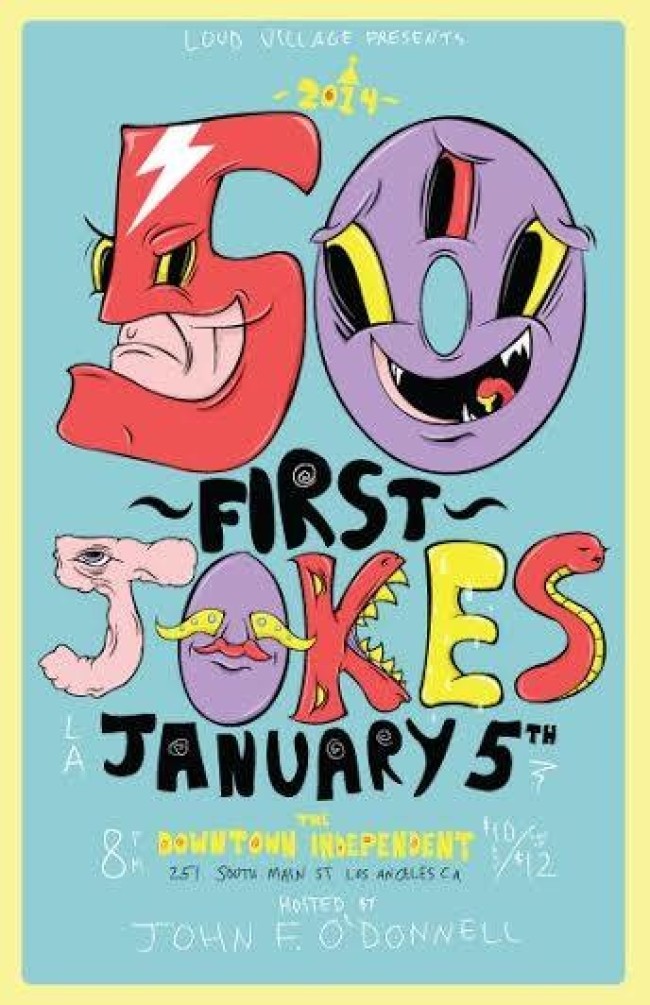 The Loud Village folks Jeremy Burke and John F. O'Donnell will be bringing you some serious ring in the new year fare with the annual 50 First Jokes show at LA's Downtown Independent. If you are unfamiliar with the concept of the show please allow me to explain. Basically 50 comedians get up on stage one at a time and tell one spectacular joke. I wonder if you realize how difficult it is for a comedian to tell just one joke. I guess you'll find out! The 2014 trailblazers are as follows:
BJ Novak, Eric Andre, Jonah Ray, Rory Scovel, Matt Braunger, DC Pierson, Julian McCullough, Lauren Ashley Bishop, Sean Patton, Guy Branum, Hampton Yount, The Walsh Brothers, Hasan Minhaj, Sean O'Connor, Emily Maya Mills, Johnny Pemberton, Andy Haynes, JC Coccoli, Rob Hoffman, Andy Peters, Jim Hamilton, Claudia Cogan, Andy Wood, Nick Rutherford, Raj Desai, Jake Weisman, Dave Ross, Kate Berlant, Brooks Wheelan, Margie Mintz, John F O'Donnell Will Weldon, Matt Knudsen, Erik Charles Nielsen, Matt Ingebretson, Eliza Skinner, Jeff Watenhoffer, Allen Strickland Williams, Eli Olsberg, Alice Wetterlund, Josh Haness, Whitmer Thomas, Eric Dadourian, Brandie Posey, Wes Hudson, Mo Welch, Shawn Pearlman, Grant Pardee, Sarah Morisano, + more!!
You will NOT want to miss this show. No joke.
Mentions: Get your tickets HERE before they are all gone. Doors open at 7 and show begins at 8.
$10 in advance, $12 at the door.