Layers: RIOTLA Fest starts THIS THURS Jan 9th!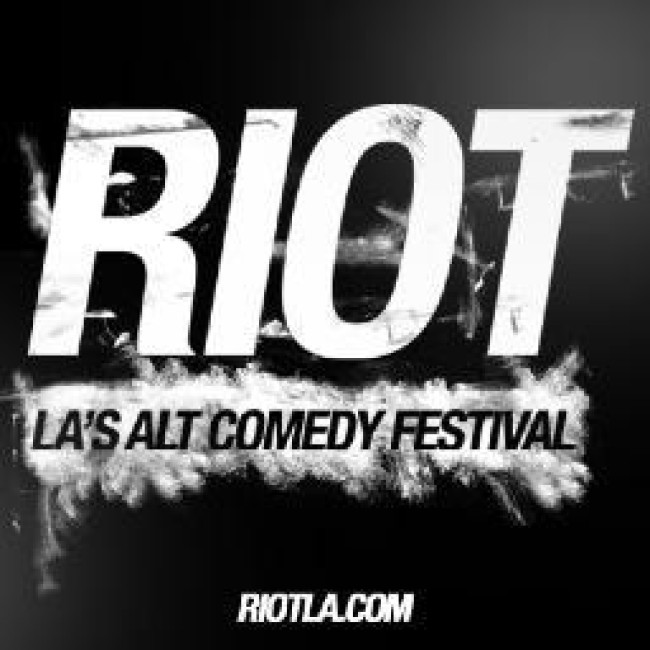 WHAT! You don't have your passes for RIOTLA yet? WTF are you waiting for you superfan? Carpe Diem! LA's own alternative comedy festival starts this Thursday, January 9th and is going to be a hell of a party. Just check out this video of performers & supporters to remind you of all the fun you could be having this week:
Not convinced? There will be a total 45 special shows going on during the fest plus over 150 performers strutting their stuff. Allow me to highlight just a smidgeon of the comedy platter that awaits you Jan 9-12.
Thursday, January 9th: You have to choose from Kumail Nanjiani at DowntownIndie, Ron Funches at the Lexington, The Best of RIOTLA including Giulia Rozzi, Matt McCarthy, Chris Garcia, Fahim Anwar, Josh Gondelman and Dave Stone at the 5 Star Bar AND the Skarlbro Country with Brendon Small at The Smell. All these performances start at 8pm.
Friday, January 10th: Oh boy, there are some serious Sophie's Choices to make. At 8pm Todd Barry, Eddie Pepitone, Ari Shaffir or Dan St Germain (+Best of RIOTLA). At 9pm, Greg Fitzsimmons, Dov Davidoff, Improv 4 Humans with Andy Daly, Seth Morris and Lauren Lapkus, AND Jeremiah Watkins. Luckily the night concludes with a single midnight performance by Andy Haynes.
The weekend's events are a little more spread out but you will still have to make some major choices. My picks for Saturday, January 11th include The Wayne Federman International Film Festival screening 1972′s Heartbreak Kid with Kevin Nealon complete with Q&A, Guy Branum presents Talk Show The Game Show, Doug Love Movies at 4:20 (of course), Superego with Resident Specialist Paul F. Tompkins, EAGLEHEART: PARADISE REVISITED, Jimmy Pardo Presents These 4 Jackasses, Candy Cigarettes with Jay Larson, The Best of RIOTLA featuring Greg Fitzsimmons & Rory Scovel, The Rodney Dangerfield Award Showcase AND CC Studios Presents Roustabout Live with Kurt Braunohler.
Sunday, January 12th, the last day of the fest, is packed with comedic goodness. You MUST SEE The Fogelnest Files, Comedy Bang! Bang!, The Birthday Boys, Persona! hosted by Tony Sam and featuring Ron Lynch, Emily Maya Mills, Clownvis, Andres Du Bouchet, Dana Gould and Alice Wetterlund, Kyle Kinane, Mr. Potato Head with Kurt Braunohler, The Best of RIOTLA featuring Morgan Murphy & Nick Thune AND LAST BUT CERTAINLY NOT LEAST Jon Benjamin Has a Van: A Celebration of Failure.
Mentions: Four-day passes are still available for $85. The RIOTLA parking lot party will feature astroturf lounges, vintage arcade games, complimentary craft beverages, food trucks, and music from KCRW DJs. Click HERE for the full schedule.