Layers: SURPRISE Comedy Yields An UnSurprisingly Good Time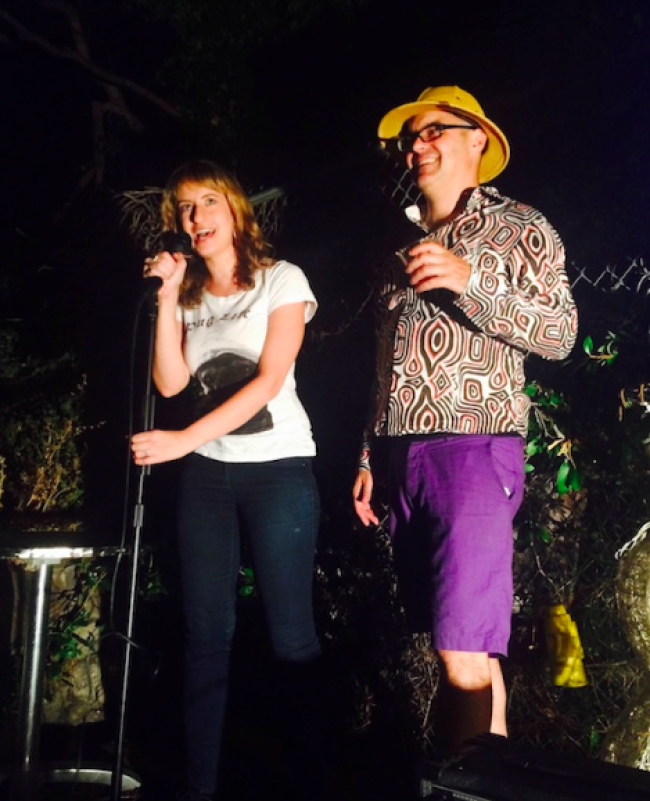 Let's face it; L.A.'s comedy scene can be one-in-the-same sometimes – You get the Facebook invite. You might get a comp. And, you stand in line at a theater, until showtime, where you sit stiffly until your friend goes on stage. Then, you try to remember a "favorite joke" from the show, to prove you weren't thinking about how your left foot fell asleep, and it was too quiet to stomp it out, the whole time.
Well – THIS IS NOT THAT SHOW! In fact, this is unlike any show you've seen before. As I followed the GPS down the street, I said to myself, "Oh god, this is a house? Are they sure?" But, soon I saw signs reading , "SURPRISE Comedy" placed like an Easter scavenger hunt, leading behind an unassuming Echo Park bungalow, to what is affectionately known as "The Grotto," also known as comedian Terrence Newman's backyard.
I soon realized I was in the very right place, as the crowd squeezed in, like a week's worth of clothing in a carry-on bag. In fact, the vibe read like a college house party (the good kind), so this #1Party School graduate (Let's go Mountaineers!) was right at home.
And, then there were baked goods, a table full of them. "I baked all these, please help yourself," show co-creator Sofiya Alexandra said. (She clearly didn't realize what that meant to a dessert devotee, like myself.) To wash down all the sugar, beer and a special "punch" was available, and the punch packed a…punch!
I grabbed a seat on a fold out chair in front of the stage, and wondered how this was going to go. The night's theme was a setlist – stand ups doing improv is always funny in one way or another. And, the talent was kept confidential until showtime – that's some trust. Not knowing what to expect, I sipped on my punch and braced myself; this was, after all, someone's backyard.
Then, the other show co-creator Robert Buscemi, announced the night's host, Paul Provenza – "Of Northern Exposure," I thought, while nearly choking on my punch. Yes, of Northern Exposure. This show was legit!
We all know Set Lists, unannounced topics that comics are given on the spot, are a stand up's favorite (sarcasm for those of you who don't read enough Cake). But, the talent crushed it, and there were so many comedic gems throughout the night. The night's line up consisted of Sofiya and Robert, Baron Vaughn (who gave us the phrase "Clown-orreha"), Terrance Newman (whose house it was), Emily Maya Mills (who explained the "biological origins of foot fetishes), Kate Berlant (She's Kate Berlant.) and Guy Branum (He knows so much about Olivia Newton John it IS funny!).
So, what's the background of this backyard show? I had to ask.
"Sofiya and I met at a comedy show, and then we hit it off- decided to go to Happy Hour… And, we decided that a good show might be that we don't announce lineups and that it's a mystery comedy show…," Robert Buscemi said.
And, this show has a following, literally. Also, unannounced was the next month's show's venue- because they don't know yet; they never do, until last minute. Whew, that's even "seat-of-the-pants" to the most right-brained of us. With 50 seats filled nearly every month, you'd think it was planned like a wedding. But, these fans stay glued to the show's Facebook page and email list, for updates.
"When we first started we did it like a house party… we let everybody we know, know about the show. People came. And, we started getting this strange little following that would come out each month… It can become a spiraling thing where you constantly get a new infusion of people while retaining your bonafide regulars," Buscemi said.
With a standard of booking a fifty percent female line up (Yes!) and a strong commitment to diversity, the pair use their differing backgrounds (Alexandra's "newbie" Los Angeles connections and Buscemi's established Chicago roots) to join the up-and-coming comics with the established veterans.
"We know very different people. So that was kind of a cool marriage, too," Alexandra said. "We were like, 'we're going to get very different crowds.'"
You could say this format works; the two are currently on an eight-stop tour. Don't worry, they're staying humble, though.
"About four of the shows are Surprise shows," Buscemi said. "And, we 're gonna rent a van and stay in motels. And, we're gonna pass the hat and pass out baked goods, just like we always do."
So, there you have it; unicorns do exist. A show where producers keep it fun, legit and diverse, in Los Angeles.
"We're for people who are like 'I want to have a kickass time tonight. I don't care what's going to happen, just take me'. So, we've built up this amazing audience that we're super lucky to have that follows us all over the city," Alexandra said.
Well, THIS girl had a "kickass time!" If you want an evening that's like an actual interesting family reunion, without the nagging, this is your stop. The rice crispy treats, alone, are worth it.
Mentions: Images by Sarah Dopson. That's SURPRISE hosts Sofiya Alexandra and Robert Buscemi is the feature image. Follow SURPRISE on Facebook & Twitter for new shows.