Layers: 'Neil Hamburger LIVE' Yields Lots of Gourmet Comedic Cheese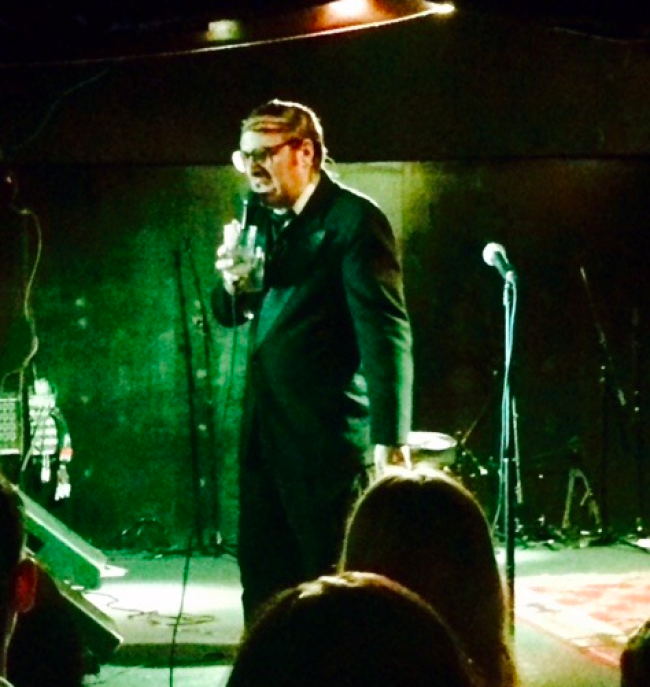 Where do I even start on this one? My night at The Satellite Theater began with walking down Silver Lake Blvd., GPS in hand, then looking up to see it was the last thing I needed to find Neil Hamburger Live. With my earbuds blaring something I'm probably ashamed to say I even listen to, I looked up to see droves and droves of twenty and thirty somethings flocking to Silver Lake's Satellite Theater.
I followed the masses that stretched around the block and took my place in line, I put the 90's soundtrack away, for the night, and tuned into the conversations – not creepy at all for them, I'm sure. "I wonder if he'll do this."
"Yeah, but I like when he does that." "You've never seen him?! This is my fifth time." – "Hmm, this guy has quite the cult following," I thought as I tried to look like I was a Neil Hamburger expert, too. -To be fair, I am an actual hamburger expert. (I'm glad that obligatory pun is out of the way.)
Many random thoughts later, I was through the airport-security-length line and inside! I have to say, this place was pretty swanky. Cocktail tables, with standing room only, surrounded the stage, and to the left of the door was a nice, long bar. The vibe was on the verge of a jazz club. Then, up the stairs, was a chic patio area, with billiards and a foosball table (Did I really have to watch the show?).
As I secured a spot near the front (At 5' 2", it's necessary to butt in front of some folks, okay?), the lights dimmed and out walked a lady in boxer shorts and Pooh ears. "Please, don't be dressed like that to make up for not being funny," I said very internally. I soon realized this was Ali Liebegott, and everything she said was freaking (I mean the other word) hilarious! In her matter of fact way, she explained her views on everything from Carmax shopping to getting an upset stomach from, uh, performing sexual acts. Being a barebones comic, I usually find costumes to be corny, but her deadpan in Pooh ears made her jokes that much funnier. Notable: Her jokes were really funny on their own.
Next up was the ever gorgeous, ever flamboyant Dynasty Handbag – imagine if Perry Farrell and Lucille Ball had a child. All I could think was "I want her skincare routine?" This one was all about funny sound effects- Again, barebones comic. But, she won me over by making fun of valley girls and rednecks (I AM from West Virginia.) At this point, I realized these comics were doing something pretty cool – successfully combining stand up and improv.
Sam Simmons was no different and centered his routine around daily annoyances (speaking my language). I had long forgotten the monstrosity that was the first unintentional olive I tasted. And, why IS there always that last string on the banana? And, why does it stick on my lip and ruin my banana experience? There was so much more where that came from, but the best part was the finale: This man opened a grocery store taco kit and proceeded to make tacos…with his mouth…Not my usual type of humor, in fact class clown types always get an eye roll from me, but this man had me in tears (happy and sad)! I still can't tell you WHAT the funny part was; it just simply was.
Next up was James Adomian, who reflected on the conflicts of being both gay and Armenian, while busting relentlessly on the oddities of L.A.'s Westside. Alright, a crass comic! Also, to be respected were his many impressions. He has a David Bowie voice that's just money, y'all. And, his Louie C.K. – Hey, if you're gonna do it, you'd better nail it. – He did.
And then, magic happened. I saw Jack Black on the flyer, but I dismissed it, thinking that this was an extremely common name. Sure enough, Mr. Black, himself, emerged, in a Grateful Dead tie-dyed T-Shirt , with his guitar and took his rightful place at the mic. He hilariously serenaded us with a compilation bridging Led Zeppelin, Lionel Ritchie, Black Sabbath and Simon & Garfunkel, before heading out. Life. Made.
Needless to say, the crowd was pumped for headliner Neil Hamburger. If you don't know Hamburger, he's another character comic of the nerdy and greasy kind. Neil is one of the most brilliant comics out there, and I mean in the intelligent way. He specializes in brainy insults; and he mostly had the crowd on his side. Some of his jokes are not for the weak or the politically correct, but this is comedy after all. He definitely leaves no one alone, and I can appreciate the endless research he must put into his jokes. Considering he's the kind of comic you either love or  hate, he managed to only get booed twice, for jokes referencing the deaths of Eric Clapton's son and Tupac. But, he appeared to have planned for it, and the show ended with a roar of applause.
Though I agreed with the two boos, I can really respect a comic who gives you a brain-gasm with every joke. I thoroughly enjoyed Jack Black(!!). The other comics brought the house down, and as someone who's written and performed every type of comedy, it was refreshing to see someone bringing it all together. The Satellite was an awesome venue all by itself. I'd highly recommend seeing anything here. It's perfect for a casual date night – you're welcome clueless men of Los Angeles.
Mentions: See Neil Hamburger LIVE July 26 at The Satellite, if you dare.