Layers: OUT TODAY The Supernatural Comedy Thriller CAMP WEDDING Is Ready to Take You on A Wild Summer Ride
It wouldn't be summer without a campy thriller. CAMP WEDDING embraces this genre and takes it to unexpected places. You are instantly lured in by the eerie sounds of Teddy Ruxpin (you know, the talking 80s teddy) and it only gets stranger and funnier from there. The wedding comedy/ modern supernatural flick, inspired by Executive Producer Cara Consilvio's own wedding, revolves around a wedding party who must turn a run-down summer camp into a wedding venue in a very short amount of time. Budding opera star and bride-to-be Mia (played by Kelley Gates) is very close to being a Bridezilla as her friends don't quite live up to their helpful promises. Did we mention creepy masked strangers turn up, people start disappearing, and a sordid camp history is revealed?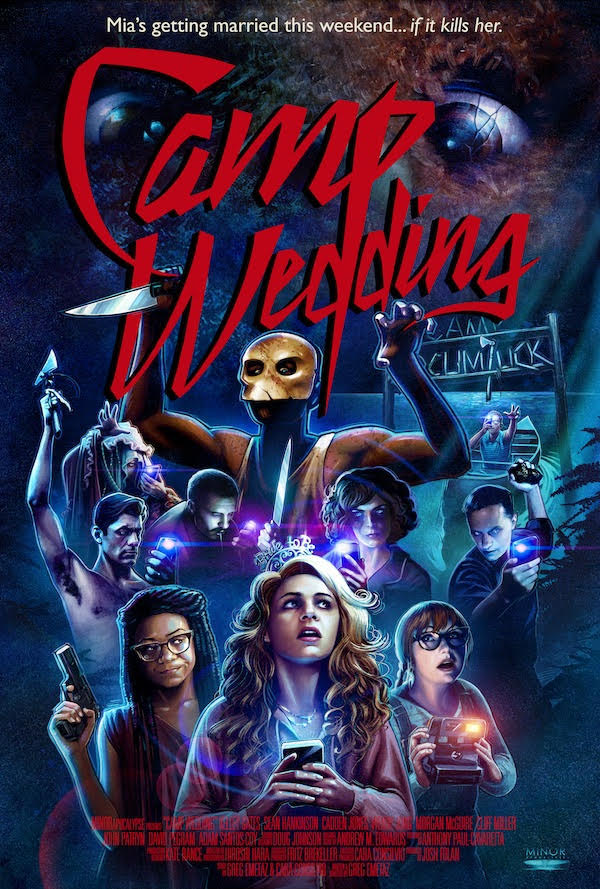 You see, Camp Pocumtuck (don't make me say it multiple times) had an incident back in 1985. The strict religious summer camp had to shut it's doors when a girl was struck by lightening and drowned. Prior to that women were burned at the stake for being witches, AND even before that, the site was center of a Native American massacre. Of course, none of that deterred Mia from booking at on Airbnb. Of course. And so the makings of the twisted wedding comedy thriller begin!
The "campy horror," co-written by Consilvio and the feature film's director Greg Emetaz, reminds me of TBS's "The Guest Book," only way more crazy, and with a lot more passion as the plot winds towards a very special ending. Is the comedy a modern allegory for our technological obsession or is it simply meaningful story of friendship conquering all? I guess you'll have to decide for yourself. Check out Camp Wedding today on a convenient digital platform!
Mentions: Get your hands on Camp Wedding HERE. The thriller has received critical acclaim, winning the Best Feature Audience Award at Nevermore Film Festival, Best Comedy at Jim Thorpe Independent Film Festival, and Best Sound Design, Best Original Score, and Best Feature at Queen Palm International Film Festival. Yes, even more reasons to check it out!